Beyond the Museum's Closed Doors: Translating Art Online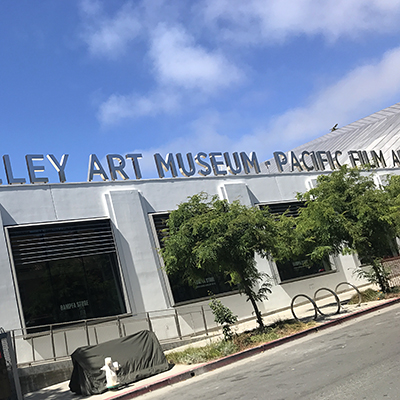 Rosie Lee Tompkins's quilts had been hanging in the Berkeley Art Museum and Pacific Film Archive (BAMPFA) for only three weeks when public health mandates forced the museum to shut its doors for the foreseeable future. A roundtable discussion about the Art Wall project on "Affordable Housing for Trans Elders" was abruptly put on hold. Family art weekends were canceled. In a moment, BAMPFA, along with other museums in Berkeley and across the country, were forced to close their doors.
In spite of the unexpected disruption, museums across the Berkeley campus have risen enthusiastically to the challenge of translating the museum experience onto virtual platforms and making art available to patrons at home. The innovative solutions found by BAMPFA, the Magnes Collection of Jewish Art and Life, and the Phoebe Hearst Museum of Anthropology illustrate some of the ways museums have responded to the Covid-19 pandemic.
The first, and in some ways easier, challenge to solve was museum programming. All three institutions offer lectures, panel discussions, performances, and workshops to engage the community with art in different ways. Though many of these events were initially canceled, virtual versions of these programs now flourish through platforms like Zoom and YouTube Livestream.
At BAMPFA, Arts + Design Mondays, a free lecture series that involves various university departments and art organizations, is still hosted weekly. Recently, New York Times art critic Roberta Smith joined former BAMPFA director Lawrence Rinder for a discussion of Rosie Lee Tompkins's quilts, without either of them leaving their homes. Similar art talks and lectures about other exhibitions have been recorded.
With some creative re-imagining, BAMPFA was even able to continue its family programs. Every second Saturday, families with young children can join an artist on Zoom to learn how to create their own art at home. Any required materials are posted on the BAMPFA website in advance. Children can also participate in reading activities, where they take turns reading text on the screen and later receive the book in the mail. It may not be as exciting as making art in the museum, but these programs allow parents and children to bond over art-making while confined at home.
The Magnes Collection has also utilized virtual platforms to engage viewers from a distance. Every Friday, the Magnes Collection curators Francesco Spagnolo and Shir Gal Kochavi pick a piece of art and contextualize it in the series "Zooming In: Weekly Curatorial Conversations from The Magnes Collection of Jewish Art and Life." Past titles have included, "Jewish Resistance: The Many Contexts of a 1905 Painting by Lazar Krestin" and "Displaying Identity, Protecting Oneself: (What Do We Learn from) the Shape of Hanukkah Lamps." These short, 30-minute lectures allow participants to explore larger themes of Jewish life and art through the lens of the collection's pieces.  
In an effort to assess the evolving needs of its audience, the Hearst Museum created a survey on its website, with questions such as, "How can the museum best serve you at this time?" and "What are the biggest local issues the Hearst Museum could or should be addressing?" This survey has informed the museum's development of various online resources. For example, teachers and parents of homeschoolers can now download "teaching kits," which include readings, pictures, activities, and discussion questions on topics like Indigenous peoples in California and Mexican art and culture. They have also made available scholarly publications, films, California Indigenous language archives, and a collection database of nearly 3.8 million objects.
Art exhibitions, meanwhile, have been more challenging for these institutions to reimagine. Yet the museums have managed to recreate the embodied experience of seeing a piece of art in person by pulling together photographs, exhibition labels, and videos into an online presentation.
On the home page of each museum's website are links to pages about the current exhibitions. Viewers can find slideshows or links to Flickr albums to view images of each artwork. BAMPFA provides video walk-throughs for certain exhibitions, while the Magnes provides a detailed PDF of the museum labels. In addition to images of the objects, exhibitions' pages typically provide links to virtual events associated with the exhibitions — such as curator talks, artist conversations, and roundtable discussions — to encourage virtual patrons to dive deeper into the art. 
BAMPFA has started a new podcast called "Views and Voices." In this series, staff members from all departments (from marketing to curatorial), plus a few Berkeley students involved in the museum, are invited to choose a personally meaningful piece from the collection and speak for a few minutes on its significance. This program has given staff members who don't usually write about art the opportunity to share their thoughts and feelings about different artworks. It also allows viewers to consider a specific piece of art from a different perspective. In a recent episode, Jamie Danis, a docent and former student curator at BAMPFA, described how Fred Wilson's Wanderer (2003) has made her think about the role of museums in facilitating difficult conversations and promoting social justice, particularly in relation to racial conflict. This program shows how museum closures have not stopped important reflections on art.
One creative way the Magnes has kept the museum alive during eight months of shelter-in-place is through Animal Crossing, the Nintendo video game. Using the Nintendo phone app, visitors can scan a QR code, found on the Magnes website, for specific images from the collection. This code prompts the images to download into the video game, where players can place the art inside the buildings they have created in the game. Several other museums across the country are also taking advantage of Animal Crossing to help players build their own museums in the virtual world.
New exhibition projects are also pressing forward, which I have seen first hand both at BAMPFA and the Magnes. As a member of the BAMPFA student committee, I have been involved in publishing a PDF version of "Five Tables," the annual student-curated exhibition project. In a normal year, we would visit BAMPFA with a curator to look at different pieces and create our own exhibition, to be displayed across five tables in one of the museum's galleries. Over the course of a few evenings, students would have the opportunity to see the collection and select the pieces. This year, however, Rachel Dickson, the curator who works with the student committee, introduced us via Zoom to a selection of pieces she'd chosen around the theme of "Floorplan." We then engaged with the art by writing exhibition labels. Although it was a very different format, the process went smoothly and ultimately expanded the number and kind of objects that could be included. For example, one piece in our PDF exhibition is a 13-foot-high tapestry, which never could have fit on a table but works nicely in a photograph. 
As an intern at the Magnes, I've also had the opportunity to witness how curators Francesco Spagnolo and Shir Gal Kochavi are putting together an upcoming exhibition, "Time Capsules." The exhibition celebrates the 10-year anniversary of UC Berkeley's acquisition of the Magnes Collection by redisplaying objects from select former exhibitions across the decade. I have never physically seen any of the objects that will be displayed; but through creating the exhibition Flickr album, which involved hours spent with photographs, I feel I've grown close to them. The display will include diverse pieces — from Roman-era coinage and Moroccan prayer shawl bags to Italian Hanukkah lamps and Eastern European Torah crowns. Together they tell the story of the owners' lives. The Flickr album format — a sequential ordering of photographs — helped me to notice fascinating connections across the diverse types of objects. I might have missed such connections had I only seen the objects spread out across multiple display cases, or individually as they were pulled out of storage. 
In spite of these unexpected benefits of producing the exhibition digitally, the Magnes has encountered some problems. There are a few objects that have never been photographed, while only poor quality images exist for others. It is also difficult to know the condition of some of the objects with limited access to storage. The curators hope that over the course of summer 2021 they will be able to set up the physical exhibition at last, and rectify these problems. 
Personally, viewing art exhibitions online has made me reevaluate the purpose of a museum and find new meaning in the collections. Of course, it was possible long before the pandemic to view images of art online. I still went to museums, though, in order to see the art in person. But after spending time with the online exhibitions at BAMPFA, the Magnes, and the Hearst, I've realized an art exhibition is more than just a collection of individual objects. By paying more attention to why certain objects have been placed together, reading the exhibition labels more closely, and consulting additional resources about the pieces, I've come to value more deeply the thought put into curation. I'll surely look at art differently when museums finally reopen their doors.