The Townsend Center supports faculty and student research and scholarship through a variety of outlets.
Bear's-Eye View is a chronicle of students' engagement with the vibrant humanities culture at the Townsend Center and across the Berkeley campus. Each semester our undergraduate humanities writers soak up the wealth of humanities programs and events, and write about what they've learned.
Newsletters
Our print newsletter, published each semester, covers Townsend Center programming.
Berkeley Forum in the Humanities
The Berkeley Forum in the Humanities, published by Fordham University Press, features topics of broad interest in the humanities and interpretive social sciences, with a focus on the work cultivated at the Townsend Center. The series presents work that is richly contextual along historical and social lines, while critical and challenging in its views.
Occasional Papers
The Occasional Papers series makes available some of the many lectures and conversations of eminent scholars, writers, and artists who participated in Townsend Center programs 1994-2003.
Representations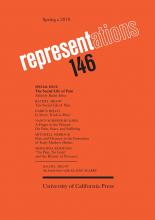 Representations is an interdisciplinary journal in the humanities and interpretive social sciences published quarterly by the University of California Press.