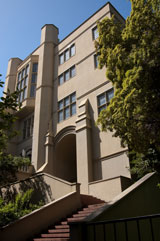 Since its establishment in 1987, the Doreen B. Townsend Center for the Humanities has encouraged an interdisciplinary approach to scholarship, fostered innovative research, and promoted intellectual conversation across academic fields. The Townsend Center is committed to enriching the existing wealth of intellectual resources at Berkeley through an array of fellowship and grant programs designed to support research and scholarship at all levels of the university community.
The Center also funds more than 60 interdisciplinary working groups on a wide range of topics — ranging from Tourism Studies, to the Consortium on the Novel, to Russian Peripheries — and cosponsors a wide variety of lectures and conferences with other departments and units on campus.
In addition to these established programs, the Townsend Center plays an integral role in the development of new and innovative academic initiatives. The Art of Writing program enriches writing instruction on the Berkeley campus, offering intimate undergraduate seminars as well as the Summer Writing Institute, which helps graduate students refine their skills as teachers of writing.
The Center offers a variety of public programs, including the Avenali and Una's endowed lectures in the humanities. Distinguished visiting scholars and artists have included Nobel Laureate Wole Soyinka, US Poet Laureate Joy Harjo, authors Ursula K. Le Guin and Marilynne Robinson, psychoanalyst Christopher Bollas, and historian Jill Lepore.
More on the Doreen B. Townsend Endowment.