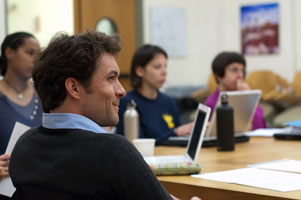 The activities of the Doreen B. Townsend Center for the Humanities are made possible largely through the generosity of non-university funding. As part of its ongoing mission to foster interdisciplinary research and public programs in the humanities, the Center is currently seeking to expand its endowment base. Townsend Center priorities are for faculty and graduate student fellowship programs and administrative support.
Please contact Director Timothy Hampton or Associate Director Rebecca Egger to discuss donations and endowments to the Center.
Give online by making a secure credit card gift online through Give to Cal.
Planned giving through your will or estate plan is a rewarding way to share your support of humanistic studies. Bequests, gift annuities, or gifts of real estate may be beneficial for current financial planning as well.
Please visit the Give to A&H (Arts & Humanities) page to support the humanities at Berkeley.