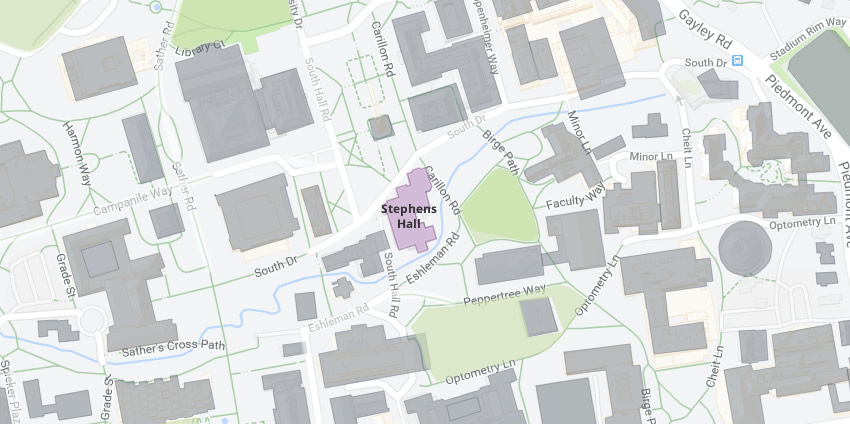 Townsend Center for the Humanities
University of California
220 Stephens Hall, # 2340
Berkeley, CA 94720-2340
Stephens Hall is located in the central part of the campus near the Campanile (Sather Tower). It is a sage-colored stucco building with a large, arched, central breezeway.
From the campus south entrance at Telegraph Avenue, proceed across the Sproul plaza continuing through Sather Gate. There turn right, walking uphill past Wheeler and South Halls. Stephens Hall will be on the right, directly south of the Campanile. Once inside the breezeway of Stephens Hall, enter the blue door on the right, walk through the hallway, and proceed along the exterior terrace to the Center's entrance.
---
By BART
From downtown Berkeley BART, proceed east (uphill) on Center Street towards campus. Cross Oxford Street, and walk up Frank Schlessinger way (the tree-covered pathway). Continue up the hill towards the Campanile (clock tower). Once you reach the Campanile, turn right and enter the Stephens Hall breezeway.
By Car
From I-80 East or West:
Exit at University Avenue (uphill fork if driving east)
Continue east on University Avenue for approx. 2 miles to Oxford Street
Turn right onto Oxford Street
Go 6 blocks and turn left onto Durant Avenue
Go 4 blocks, crossing Telegraph Avenue, then turn left
Look for public parking, available in public parking lots located in the vicinity of the south campus entrance, and fee-parking in campus lots after 5 pm. Street parking is metered and very limited.
The south campus entrance, open to pedestrians and bikes only, is located at the corner of Telegraph and Bancroft Way.
If you require directions to park on campus lots, which require a permit, please visit the UC Berkeley Parking and Transportation website.