From Kiwis to Opera: How Art Makers Approach Composition and Creativity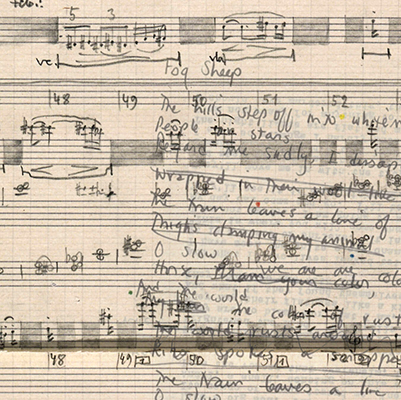 In their panel conversation for the Townsend Center for the Humanities titled "Thinking about Composition," Sivan Eldar, Myra Melford, and Geoffrey O'Brien aimed to connect with and inspire audience members with regard to practices of composing. Tossing aside grand theories of composition, they instead explored how artists put artistic works together and how this process affects their perspectives on composition. Each artist took a turn describing a work of theirs, ultimately discussing how their relationships with composition affects their work and their views on how to innovate in their respective mediums. 
First, composer Sivan Eldar focused on her collaborative works of theatre and music. After earning her PhD in Music at UC Berkeley, Eldar teamed up with set designer Aurélie Lemaignen and playwright Cordelia Lynn. Together they created Heave, an unconventional work of theatre that combines live electronics and vocal ensemble in an outdoor set. The text for Heave features the story of how love changes during metamorphosis, as one of two partners experiences a personal transformation. After reading an excerpt of Lynn's text, Eldar wanted to revise it to capture this changing human relationship in a more visceral, plant-like way. Drawing inspiration from Anna Tsing's book The Mushroom at the End of the World, she came up with text that relied heavily on the sprouting of plants as a metaphor for human transformation. In the end, Lynn and Eldar's versions both contributed to Heave's final text. 
In addition, Eldar worked with computer music designer Augustin Muller, using food, slime molds, instruments, and other objects to make sounds that simulate cellular transformation. Eldar and Muller aimed to create what Eldar dubbed "sound worlds," culminating in audio with 64 sounds that allowed Heave to take up a larger and more tangible space in its outdoor performance in 2018. The audio and video clips Eldar presented in this discussion were mind blowing for their unique way of showcasing a human narrative of personal transformation. One would never guess that audio of peeling bananas, kiwis, and tomatoes, for example, could lend itself to this storyline, but Eldar and her collaborators' innovation turned Heave's strange sound bites into something authentically human. 
Poet Geoffrey O'Brien started his part of the discussion by claiming that composition embodies a recontextualization of chaos. In making things, he argued, artists attempt to make sense of and enclose chaos into a work. He thinks of revision as a continuation of a work instead of part of the work's afterlife. In one of his early poems, The New, O'Brien collaged temporal markers from the first few sentences of each chapter of Dante's La Vita Nuova. His goal in this was to "delete the vita, and keep the nuova," focusing on the organizational process of composition. After reading an excerpt of The New aloud, O'Brien argued that composition has a single moment of action; after that, composition is made of simply reaction. In other words, the first spark of an idea is not the same as the revision that occurs in the fleshing out of an idea. This process of revising as part of reaction, then, suggests that one is hardly ever the sole creator and rather is always collaborating and relinquishing control to the work itself.
Lastly, jazz musician and composer Myra Melford discussed an improvisational piece she is currently working on with SFJazz. Her task has been to create a set-length piece of music in which she and all members of the chamber ensemble improvise together. Melford was intrigued by the tiny, unusual sounds she could create from piano strings, so she placed objects such as rare earth magnets on the strings and recorded their sounds. Then, she recorded chamber musicians imitating these sounds on their own instruments while using their own musical vocabulary. After transcribing this music, Melford scored parts of the piece as points of departure for improvisation. This project has been different for Melford because she has had to rely more frequently on colleagues and students to execute her vision. Ultimately, for her, composition is the process of creating as many permutations as possible from one idea.
These conversations led to a dialogue with the audience about a variety of topics related to artistic composition. In this dialogue, the panel revealed different ways in which they avoid equating compositional guidelines with formulae, how they see their relationships with their audiences, and how they take inspiration from those around them. One of the most poignant questions asked was how each of the artists define success. Melford stated that she cannot distinguish her success by exact metrics, but knows that she is successful when she encounters the "this is it" feeling. Elder echoed this, saying that when creating a work of art, there are so many elements and ideas that add to the piece and make it feel "heavy." For her, success comes when she doesn't feel the heaviness present in her project, and instead the work feels lighter, as if it is one cohesive idea coming together.