Perspective and Invisibility in Reid Davenport's "I Didn't See You There"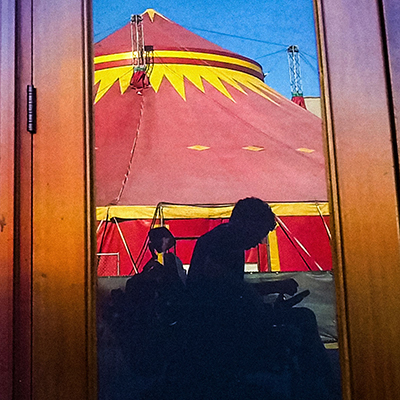 Reid Davenport's "I Didn't See You There" was screened at the Berkeley Art Museum and Pacific Film Archive on November 2, 2022. Davenport shot the film entirely from his own perspective and mostly from his wheelchair. Davenport said that he wanted to show his audience "how beautiful life can look from a wheelchair." This is certainly evident in the shots we get of Oakland at sunset, for example, or in the way that Davenport abstracts the city through carefully selected shots.
The film presents Oakland in swirling, geometric terms, zooming in on the tiled walls in the BART station, or the colorful stripes of the crosswalks, or the way that strings of lights hung from street lamps slice the sky into triangles. This was one of the things that made the film so striking for me. I've lived in the Bay Area for my whole life and have spent a great deal of time in Oakland. Getting to see this place that I love tumble and spiral through the lens of Davenport's camera was delightful.
In the talk he gave after the film, Davenport most emphasized his desire to create a film in which disabled people could see themselves represented on screen. Despite the fact that we never see his face in the film — we get only glimpses of it, reflected in windows as he passes them — the film feels deeply personal and was introduced by BAMPFA staff as "diaristic." We feel like we are inside of Davenport's perspective, rather than viewing him from the outside, and we are acutely aware of instances in which he is unseen or unacknowledged by non-disabled people around him. There is the moment when a group of people stop their car directly in the crosswalk to talk, and don't even notice Davenport until he calls out to them. Or there is the man who stretches a cable across the ramp leading up to Davenport's front door, and can't seem to quite understand why this is so frustrating for Davenport. The film makes visible the structural ableism of our world, something that Davenport emphasized in his talk as not necessary or inevitable. These moments provide an important representation of the visceral frustration that comes from existing as a disabled person in an ableist world. It is a brilliant effect of Davenport's choice to place the audience into the filmmaker's perspective that we also feel something of what it is to go unseen in these circumstances.
There are other moments that feel achingly personal and that make Davenport visible to his audience, even though we never see his face. Sometimes they are funny: at one point, we get a shot of weed smoke curling around a glass as Davenport listens to his voicemail. At another moment, he contrasts a conversation with his mother about his increasing politicization with the image of her toes, painted, just peeking into the shot. Other personal moments feel deeply serious, like when Davenport says, "I wonder if I feel more than other people." Davenport called this moment an "entry point" for viewers, the kind of unanswerable question that we all ask ourselves, about how we are different from other people.
Despite the power of these moments, Davenport said that he hopes this is his last personal film. This is perhaps connected to his decision to avoid showing his face in the film. This was a deliberate choice by Davenport, who said he wanted to avoid catering to the voyeurism to which disabled people are often subjected. Throughout the film he grapples with the idea of the freak show and the way that disabled people have been put on display. He is confronted by a circus tent that goes up outside of his apartment just as he begins shooting the film, and by the fact that his hometown of Bethel, Connecticut is also the birthplace of PT Barnum, one of the most well-known producers of the freak show. While visiting Bethel, Davenport takes his audience along with him to see a statue of Barnum that has been put up since he moved away. Barnum is still a revered figure in this community, and it is something that Davenport is forced to reckon with. He even has moments of questioning whether his own project is playing into the trope of the freak show, or will be seen that way by those who watch it.
So much of "I Didn't See You There" is centered around the implications of seeing and being seen. It is an indictment of the way that disabled people are made invisible by our society, but it also depicts the intentional withholding of one's image as a mode of agency. We see the world through Davenport's eyes, which is perhaps his most important and profound way of conveying who he is. Beyond this, though, the film presents a way of viewing the world that is transformative, geometric, sometimes abstracted, and above all, beautiful.