Trapped in the Forever War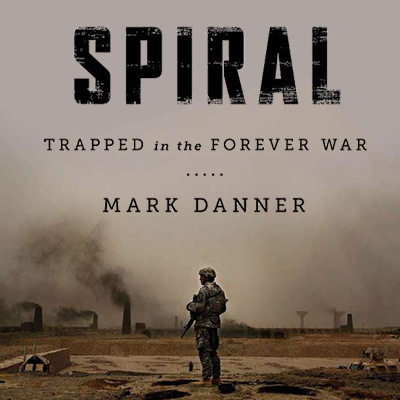 On February 28, 2018, the Townsend Center hosted Mark Danner, a professor of English and journalism. Though the event was ostensibly focused on Danner's 2016 book Spiral: Trapped in the Forever War, it became the occasion for an engaging discussion of Danner's work as an accomplished journalist with an expansive career.
Danner has regularly contributed to major publications such as the New Yorker, the New York Review of Books, and the New York Times Magazine, and he is the recipient of a MacArthur Fellowship. His career as a journalist specializing in foreign affairs and politics has led him to cover Haiti, Central America, the former Yugoslavia, the Middle East, and, most recently, the Trump campaign trail. Danner's incredible life has many lessons to offer, and several of them were highlighted during his book chat.
One of the attributes that has made Danner so successful as a writer and journalist is his academic grounding in the liberal arts. Danner attended Harvard University where he graduated with a degree in modern literature and aesthetics. Though these subjects do not inherently lend themselves to a career in political reporting, Danner considers the skills he acquired through deep study of the humanities to be invaluable. Most importantly, he says, they taught him to read — the universal skill that can be applied to all endeavours.
Danner's skills as a critical reader were particularly instrumental in his coverage of a 2003 series of suicide bombings in Iraq. While the bombings were generally written off as random and incomprehensible acts of terror, Danner "read" them as one would a novel, attempting to construct a logic between occurrences that would reveal what the "author" of the events was trying to achieve. He looked at patterns in the bombings, researched the people responsible, and eventually pieced together a logic that shed light on the connections among the various locations of each bombing, and on the methods employed by the terrorists to achieve their goal of destabilization.  
Danner's critical abilities also informed his approach to a set of sensitive US government memos written during the Iraq war. Harnessing his close-reading skills, he was able spot key inconsistencies and misinformation in the memos, ultimately concluding that they were using lies in an effort to cover up deaths and other less-than-desirable consequences of American military action.
Also crucial in Danner's development as an award-winning journalist was the influence of an important mentor. Danner's first job out of college was as an assistant editor for the New York Review of Books under the legendary editor Robert B. Silvers. Silvers became a huge force in Danner's life, both during his tenure at the Review and in his later journalistic career. Silvers allowed Danner great freedom to pursue his own writing interests, while keeping a close eye on him to ensure he was completing his work. As a leading figure in the New York publishing scene, Silvers introduced Danner to important players at the city's major magazines, newspapers, and publishing houses. Even after leaving the New York Review of Books, Danner stayed in touch with Silvers. He remains grateful for his mentor's expansive knowledge, penetrating intelligence, and ability to find the unique angle to tell a compelling story.
Finally, passion is clearly a motivating force in Danner's career, and it has enabled him to seek the sorts of captivating stories that people want to read. He is driven by a lust to be on the cutting edge of history, and to witness first-hand political violence that is, in his words, "like stripping apart the body." He loves pulling back the screen of generalized information that masks the complexities of individual actors whose behavior has shaped some of the most important political developments of the modern era. Discovering this kind of passion is essential to making an impact, no matter the field.