The Value of a Being a "Creative"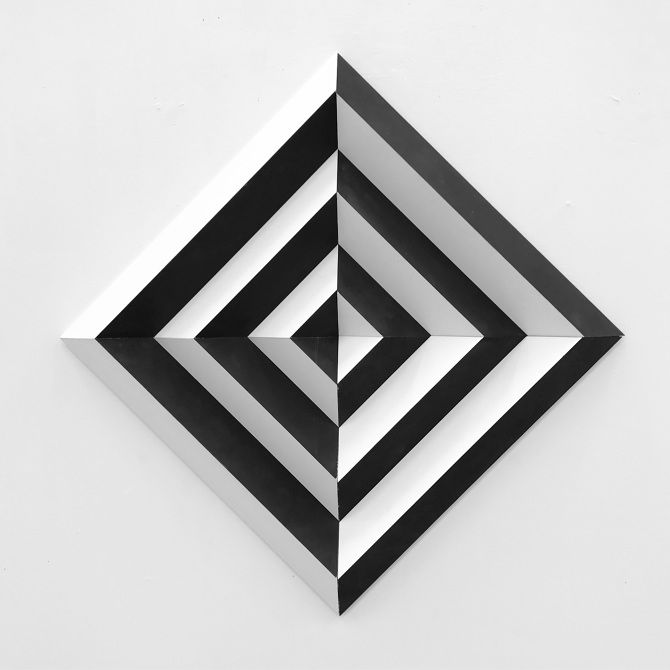 The Bay Area is known for its innovative startups and leading technology companies. But the talk "Working as a 'Creative' in the Bay Area," presented by the Jacobs Institute for Design Innovation and the Berkeley Art Museum and Pacific Film Archive (BAMPFA) on February 10th, highlighted the Bay Area's vibrant art community and its intersections with the tech industry. 
The event featured two local artists: Drew Bennett, the founder of Facebook's artist in residency program, and Purin Phanichphant, a San Francisco-based artist and designer and lecturer in UC Berkeley's Master of Design program. The talk was part of Berkeley's Arts + Design Mondays Lecture Series and followed a professional networking event for college students in the fields of art, design, and technology. Thus, for many of the students in the audience, the talk was a chance to understand how Bennett and Phanichphant have leveraged their artistic abilities into successful careers in arts, design, and technology, and how they could do the same. 
Phanichphant began by discussing his journey from working at Microsoft to being a professional artist, which even included a brief stint as a Buddhist monk. After a year at Microsoft as a product designer, Phanichphant decided to bring a human-centered design approach to art. He began traveling the world through artistic residencies in Thailand, Iceland, Japan, and beyond, trying to create pieces that would garner audience responses and interactions. For instance, in his work with the creative agency Farmgroup, he constructed a Christmas tree that resembled an enormous snowglobe, which people could walk into and touch. Phanichphant's pieces often use technology to engage audiences. In his installment "Lost in Google Translation," observers speak into the artwork and then hear their words translated into another language through Google Translate. By interacting with the piece and watching their words morph into often incorrect statements, audiences are reminded of both the prevalence of human-computer interactions and the gaps in computer intelligence. 
Bennett opened his talk by displaying one of his older paintings, which he described as "terrible." Although he created the piece while working at Facebook, Bennett said that the piece (which depicted an enormous gorilla regurgitating rainbows) was terrible because it wasn't a work he actually wanted to create, but rather, art he felt that he should make; that is, art that was "modern and edgy." However, as Bennett became more involved with the Bay Area art scene, other artists began encouraging him to start creating more authentic works that engaged his true passions: nature and environmentalism. For example, for a friend's wedding, Bennett constructed a custom wood table that allowed the couple to make eye contact with over 100 guests from the table's apex. Bennett also highlighted his creative work with Facebook (including working directly with Mark Zuckerberg) and described his desire to create a program in which artists could expand their artistic skills using established resources and mentorship. This type of personal mentorship is essential to art, Bennett explained. 
In short, both artists emphasized this communal aspect of art, especially within the dynamic Bay Area art scene. Phanichphant said that one of the most valuable parts of his artistic process has been hosting pop-up art exhibits, in which he joins forces with local artists to showcase his work. Bennett has taken this community-oriented view even further by founding the Starline Social Club, a multi-use space that hosts art lessons, exhibits artistic projects, and promotes community events. They both noted the practical elements of this community-building as well. For instance, Bennet told the audience that few artists rise to prominence from talent alone. On the contrary, it takes a community of supporters and connections. 
That being said, both Bennett and Phanichphant shied away from fully discussing the intersection of corporate work and artistic production. On this note, it bears mention that Phanichphant has produced much of his work for talent agencies that fulfill corporate projects, while Facebook's artist-in-residency program creates art soley for Facebook's private campus. Even when asked by a student during the Q&A to discuss how they approach the ethical implications of creating art for corporations, neither speaker had very direct answers. Bennett did, however, mention the highlights of Facebook's program — that is, artists have benefits and stability, while some employees engage creatively with the artwork.  
In the end, although both speakers led engaging discussions about their artistic journeys, audience members may have craved hearing more pointed discussion about balancing artistic endeavors with the professional demands of the art, design, and technology fields. In fact, students wondering how to pursue art in a professional capacity may have gotten the most pertinent piece of advice at the beginning of Bennett's talk when he discussed the value of community work. "If you want to make a career as an artist," Bennett said wryly, "you need to make friends."