"A Day in the Life"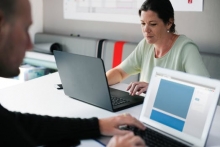 220 Stephens Hall, Geballe Room
Presented by Debra Behrens, PhD Counselor. Before joining UC Berkeley's Career Center, Debra Behrens was a professor at California State University and a career counselor at UC Santa Barbara.
Gain an insider perspective on a career field. The Career Center is offering a new program connecting PhD students with advanced degree professionals for a "Day in the Life" job shadowing experience.  
Externships provide valuable career learning and opportunities for professional networking. Externs' activities include observation of work practices, discussion of the professionals' career trajectories, meeting with colleagues, and special events.
Debra Behrens will introduce the new program to PhD students in the Humanities and Social Sciences and field questions.