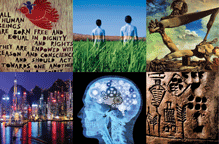 Funded by the Andrew W. Mellon Foundation, the Course Threads project developed new ways of thinking about disciplinary change in the humanities and social sciences. Course Threads is an innovative and flexible model for cross-disciplinary undergraduate education that brings to light hidden conceptual "threads" connecting courses across departments, divisions, and disciplines.  
The possibility of following a particular thread offers undergraduates an opportunity to pursue interests outside the formal requirements of a major or minor. Students complete at least three courses from a thread of their choice over the course of their studies at Berkeley. They may then participate in a semester-end symposium to receive a certificate of completion from the Townsend Center for the Humanities.
For more details visit coursethreads.berkeley.edu.