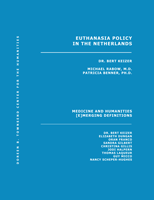 Euthanasia Policy in the Netherlands
In March 2004, in collaboration with the Center for Medicine, Humanities, and Law, the Townsend Center sponsored a week-long residency with Dutch physician and writer Bert Keizer. Dr. Keizer is particularly known for his book, Dancing with Mr. D., a personal account of his work with the terminally ill in an Amsterdam critical care facility.
Commentary is provided by Michael Rabow (physician in the Department of Medicine at UC San Francisco), and Patricia Benner (RN, PhD, FAAN, Chairperson and Professor of the Department of Social and Behavioral Sciences and the Thelma Cook Endowed Chair in Ethics and Spirituality at UC San Francisco).
Please note: this volume is no longer available for purchase.
Occasional Paper #28