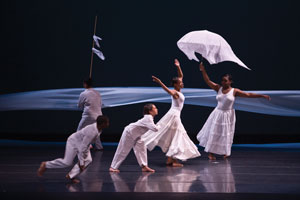 Music Matters…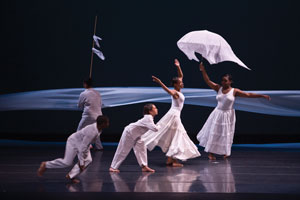 Berkeley/Oakland AileyCamp
2009 campers, photo by Peter DaSilva
…and so does dance, theater, poetry, visual arts. It may seem obvious, especially here in the context of a great university, where exploration and achievement in the humanities and sciences are commonplace, and held in the same high esteem as aspiration and achievement in the performing arts. But, why, indeed, does music matter? And why should it matter, not only here on the UC Berkeley campus, but throughout our community and beyond?
Many years ago, watching a television news program on the BBC (I was raised in London), I saw the then director of the Royal Opera House being interviewed on a chilly winter's night, outside on a Covent Garden street, alongside a homeless man. The juxtaposition was brutal: the two men standing next to each other, one in clothes worn in life on the streets, the other in a pin-striped suit. The reporter asked why should the Arts Council (through which the opera's state subsidy was channeled) support the opera house when there are people sleeping rough. The opera house's director searched for an answer and ended up avoiding the question altogether. But there was another answer, not one that was articulated then and there in front of a live television audience. What I thought at the time was that we should have both. London should have both a great opera house, and it should have shelter for all. It was more a question about the kind of society we were aspiring to be—a society where we should not have to choose one over the other.
The anecdote over-simplifies a situation that is often repeated, but doesn't offer us satisfactory insight into one of the many reasons the performing arts have a central role in our society. When we are sitting in a performance we feel why music matters, but away from the auditorium it becomes a harder question to articulate. As a way of approaching the question, I have found it helpful to observe the positive effects of a performing arts education on children and young adults and the ways that it enriches young minds.
The equalizing power of music—and the power of musical education—can be seen in two contrasting, far reaching, orchestral training projects, the West-Eastern Divan Workshop and Orchestra, and Venezuela's El Sistema.
El Sistema is a decades-old, state-sponsored nationwide musical training program founded by a visionary musical educator, José Antonio Abreu. El Sistema puts musical instruments in the hands of some 300,000 children around the country, teaches them to play those instruments, and organizes orchestras—hundreds of orchestras around Venezuela—for those children to play in. The effect is transformative, giving children and young adults a sense of purpose, a sense of responsibility, and the possibility of learning to reap the rewards of hard work through improvements in playing from practicing. I witnessed this first hand on a trip to Caracas some years ago, and came away with a renewed faith in the ability of music to positively transform our lives—it was a shot in the arm.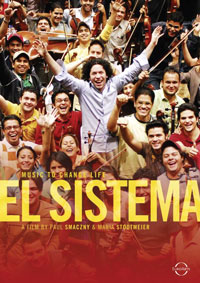 2009 documentary:
"El Sistema: Music to Change Life"
On the other side of the world, the West- Eastern Divan Workshop and Orchestra, based in Seville, was started over a decade ago by Daniel Barenboim and the late Edward Said. The West- Eastern Divan brings together young musicians from all sides of the conflict in the Middle East. They form an orchestra, they play chamber music together, they take part in master classes from leading instrumentalists, and they enjoy an immersion in a high-level musical training over the course of a summer. After that, the orchestra goes on a major performance tour. In the evenings the young musicians gather, without their instruments, for debate and conversation about matters musical and non-musical. What I observed in the first years of the project was striking.
When an Israeli and a Syrian share a music stand in the violin section of the West-Eastern Divan Orchestra, they have no choice but to work together, to 'breathe as through one lung,' to paraphrase Mr. Barenboim. Throughout many captivating hours of rehearsal, the only words spoken were about music—about how to create the sound, how to modulate the sound, how to articulate a phrase, how to respond to a shift in harmony. The rehearsals led to a series of subtle, accumulating changes that in turn led to a transformation in the quality of the performance. As the young musicians got to know the music better, they sounded better, and, spectacularly, the performances soared.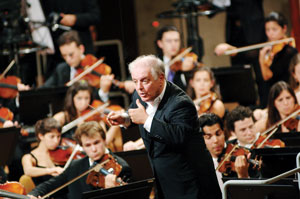 West-Eastern Divan Orchestra,
photo by Monika Ritterhaus 
Off the stage the lessons were telling too. In those evening debate sessions at which politics was discussed, the young musicians, who to this point only had in common their shared experience in rehearsal, began to find words to express their thoughts and feelings in ways that were more modulated, more nuanced, and ultimately more respectful and understanding towards each other. It was clear that their interpersonal approach in discussing centuries-old conflicts was guided by their experience making music. After one particularly heated debate, they played chamber music to round off the evening with a positive, collaborative act.
Closer to home, this same transformative power is seen in Cal Performances' annual AileyCamp, which has impacted the lives of thousands of local children and opened a door into a world whose positive influence might never have been discovered. These projects show how the performing arts can teach the young fundamental skills: when to lead and when to follow, how to take turns, how the whole is greater than the sum of its parts (what better examples than an orchestra or string quartet can there be of this). Music rewards good preparation, it at once rewards modesty and confidence, it promotes trust.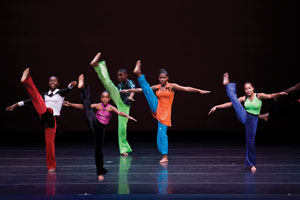 Berkeley/Oakland AileyCamp
2009 campers, photo by Peter DaSilva
As a result, Cal Performances keeps some key values at heart. Those values are Artistic Excellence, Advocacy, Accessibility (the three A's). These are values that guide our vision, and we hold every decision we make up to those values. Artistic Excellence defines our mission to present the highest quality performances on our stages; Advocacy reminds us to be the best possible advocates for those performances—through ambitious education projects, targeted, resonant marketing, support in the community—from our board, our audiences and beyond. And Accessibility defines us on many levels, from striving to have ticket prices available to all pockets—in particular to students—to fiscally responsible operations to enable us to sustain our mission.
It is my hope that we too do not have to choose between having a society that supports the performing arts at the expense of other fundamental needs. As a society, in this culturally and economically rich nation, we should aspire to both—real comprehensive excellence where our ambition also allows us to create, sustain, and develop the performing arts for everyone.
…that's why music matters.
---
Matías Tarnopolsky joined Cal Performances as Director in August, 2009. Previously he was Vice President of Artistic Planning at the New York Philharmonic, and Senior Director of Programming at the Chicago Symphony Orchestra.
This article can be found in the February/March 2010 newsletter.