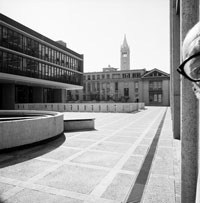 Picturing Our Future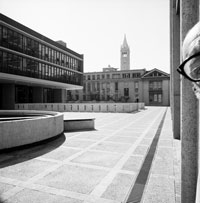 Figure 1: Self portrait of Ansel Adams
at UC Berkeley, September 1966.
Latimer Hall in front of the west
façade of Lewis Hall. Photo by
Ansel Adams. Sweeney/Rubin
Ansel Adams Fiat Lux Collection,
California Museum of Photography
at the University of California, Riverside.
"To look at the University of California is to look at California itself—its land, its people, and their problems—into the civilization rushing towards usfrom the future. There are few aspects of California…with which the University is not concerned."
In 1963, the University of California Regents hired two artists to picture our university's future. One was a photographer, the other a writer. Together they were asked to imagine, as much as possible, the next hundred years.
How does one photograph the future? Peeking around the edge of Figure 1 we glimpse the bald pate, horn-rimmed glasses, and bushy sideburns of a middle-aged man. This is Ansel Adams, captured here in a moment of uncharacteristic self-consciousness and informality as he worked on the UC Regents' four-year long Fiat Lux photographic commission. He's looking at us—the people of UC's future.
Adams' 1967 centennial publication called Fiat Lux, created in collaboration with writer Nancy Newhall, invites us, the people of the future, to see the future that our past imagined. Adams was hired to take 1,000 images of the entire UC system—then comprising nine campuses as well as dozens of agricultural and scientific research stations. He became so captivated by the project that, in the end, Adams produced 6,700 images, all of which the Regents own.
We are now fifty years into the future that Ansel Adams and Nancy Newhall were asked to imagine. Have we become what they saw? And perhaps more significantly, given the precarious circumstances in which we now find ourselves, how does our university see its future today? If UC students in 2012 were asked to take photographs depicting our university's future, what would they show? The Fiat Lux images are full of expansive horizons, drawing our eyes upwards with a feeling of buoyant, optimistic expectation. But would photographs of the UC's future taken in 2012 depict any horizons at all? Might students just submit images of their bank statements reflecting the legacy of educational debt with which their futures are now saddled?
To picture the future in the expansive terms set forth in Fiat Lux—to see it stretching forty, fifty, or one hundred years into the distance—is to perform an act that, while defying the logic of crisis and austerity, is nonetheless absolutely essential to sustaining the university as a public good. We must dare to see ourselves as simultaneously inheritors, stewards, and re-inventors of a living public trust that far transcends our own lifetimes. This is about so much more than "retaining our public character," the common refrain we hear in the face of fiscal micro-adjustments to state disinvestment. It is about affirming and inventing anew the UC's public mission. It is about envisioning long-term success in order to be successful. It is about renewing our social contract with the people of California by seeing ourselves anew. We must rehearse a better future in order to bring that future into being.
In 2009, forty-six years after the Adams/Newhall commission, the UC Regents launched a "Commission on the Future." In its Final Report issued in November 2010, the Commission ventured the courageous assertion that "the future cannot be avoided." Standing on a mountain of a year's worth of planning and fraught subcommittee work, the Commission advises that in the coming years, "The challenge will be to strike an unerring balance between what to recalibrate or even discard, and what to protect. The goal must be for the University to emerge on the other side of the crises fit and ready to serve California as well and as far into the future as it has in the past."
"Fit and ready to serve"? "Recalibrate," "discard" and "protect"? This is a language of contraction and retrenchment. This is not a language of innovation, nor does it even hint at the public ideals and educational principles that have been foundational to the University of California's historic role as an agent of democracy and citizenship. No artists were hired to produce images for the Commission on the Future's report, and that is because it represented a future without inviting us to imagine it. The Commission asked the university to "take a hard, thorough and careful look at how best to brace itself for systematic and enduring changes." In other words, we should close our eyes and think of England.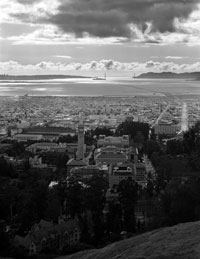 Figure 2: West from Big "C" Late
Afternoon, April 1965, University of
California,Berkeley campus and San
Francisco Bay seen from hillside.
Photo by Ansel Adams.
Sweeney/Rubin Ansel Adams Fiat
Lux Collection,California Museum
of Photography at the University
of California, Riverside.
If our present vision for the future of the University of California has become so impoverished and anemic that we can only imagine retrenchment, if our highest goal is simply not to "avoid" our future, if the prevailing rhetoric manages only the Thatcheresque mantra "There is No Alternative," then of course higher education will be, in the words of UC President Mark Yudof, "crowded out by other priorities," especially when priorities like care of the sick, disabled, elderly, foster children, etc. are so much more compelling as necessities.
We have become so myopically fixated on crisis management that not only do we fail to imagine our future in expansive terms, but we also seem unable to apprehend the legacy of our past—a past that is still very much with us, as the thousands of Fiat Lux images attest. Also in the archives one finds visionary rhetoric such as that of UC President Gilman in 1872: "This is the 'University of California.' It is not the University of Berlin nor of New Haven which we are to copy; it is not the University of Oakland nor of San Francisco which we are to create; but it is the University of this State. [. . .] It is not the foundation of an ecclesiastical body nor of private individuals. It is 'of the people and for the people'—not in any low or unworthy sense, but in the highest and noblest relations to their intellectual and moral well-being." Phrases like "of the people and for the people" are not part of the discourse of the UC present. Why is that?
One could easily criticize the vision expressed by Ansel Adams and Nancy Newhall in Fiat Lux (and by UC President Clark Kerr who hired them) as romantic, magisterial, monumental, idealized, modernist, masculine, Anglo-centric and utopian, succumbing to many of the delusions and pathologies inherent in such epic, utopian projects. Yet from the vantage of 2012, the archive challenges us to consider the dystopia of the present, a desolate time where visionary ideas seem as rare as a drop of rain in the Dust Bowl, a time when talk about the future seems always wrapped in depressing prose of accommodation, capitulation, and resignation. Today's language of change focuses only on revenue streams, low-hanging fruit, cost centers, silos, and organizational models that are "lean, flat and clustered." It is as if the entire institution has succumbed to a paralyzing clinical depression, and neither cash nor massive infusions of Zoloft will fix the underlying problem.
Adams and Newhall dedicated their Fiat Lux photographic project to "those who will make the future." These artists understood that the future must be made. So how do we make our future, even if we are not being led to do so? How do we picture the future in ways that are imaginative and robust, participatory and collaborative, expansive and far-reaching, feasible and yet daringly ambitious?
The citizens of our academic community are hereby invited by the Townsend Center Working Group "Making UC Futures" to participate in conversations and activities aimed at envisioning and making a UC future that is worthy of our inheritance. Among the projects we are mounting in the coming months is an exhibition at the Bancroft Library in Fall 2012 entitled Fiat Lux Redux. This will feature images from the Adams Fiat Lux collection—which has never before been exhibited on the Berkeley campus. We invite you to consider incorporating Fiat Lux images into fall 2012 classes, to produce your own photographs and images of the UC's future for our online exhibition, and to create with fellow UC citizens participatory and interactive projects that will help us meet and make the California civilization that, as Adams and Newhall said, is "rushing towards us from the future."
---
Catherine Cole is Professor of Theater, Dance & Performance Studies at UC Berkeley.
To browse images from the Fiat Lux collection, visit the California Museum of Photography website.
For more information or to join the "Making UC Futures" Working Group visit: http://townsendlab.berkeley.edu/making-uc-futures, or contact Catherine Cole at colecat@berkeley.edu.
This article can be found in the February/March 2012 newsletter.