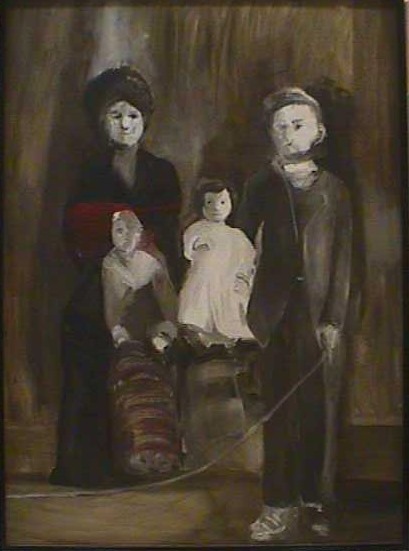 Andrés Waissman & Gachi Prieto on Art, Memory, and Argentina
PopUp Exhibition at The Magnes
The Magnes Auditorium, 2121 Allston Way
Argentine artist Andrés Waissman will be interviewed by curator and gallerist Gachi Prieto, about the complex set of circumstances that contributed to shaping his art as well as the role of art in contemporary Argentina. Waissman will discuss his experience as a Jewish Argentine artist as well as the various series within his oeuvre that address topics related to the exoduses, migrations, and multitudes of souls in search of the Promised Land.
Andrés Waissman is a contemporary visual artist whose work has been exhibited in England, Belgium, the Netherlands, Italy, Israel, Venezuela, Chile, and Argentina. He has received numerous awards; his work is part of many international collections, including the Museum of Latin American Art in California, the Blanton Museum at the University of Texas at Austin, and The Magnes Collection of Jewish Art and Life at UC Berkeley. Waissman, who lived in Berkeley in the '80s, is also the creator of the Studio Cri Program, space for work and discussion for many young artists in Argentina, where he has lived and worked since 1992.
Gachi Prieto is an independent curator and arts entrepreneur who has been active in the world of theater and the visual arts since 1992. Prieto has curated exhibitions in private galleries and public institutions in Argentina, Chile, England, and the United States. She has taught seminars and offered conferences at various institutions in Argentina, and, since 2008, she has been director of Gachi Prieto Gallery, representing contemporary Latin American artists.
Waissman's painting, La familia (1980), is currently on exhibit with The Magnes Collection of Jewish Art and Life and his exhibition Multitudes is on display at the Townsend Center for the Humanities through December 18, 2015.
About the PopUp Exhibition Series at the Magnes
Each week, UC Berkeley faculty, students, visiting artists, and other notable guests present brief lectures focused on selected treasures from the The Magnes Collection of Jewish Art and Life. These "flash" exhibitions include the opportunity to view the art and artifacts discussed intimately and up close. 
Bring your own lunch, enjoy complimentary refreshments, and take part in an exciting learning program.
This event is free and open to the public.