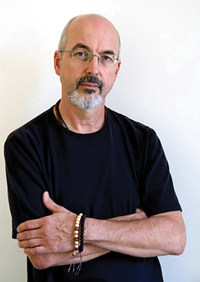 Bill Viola, Video Artist
"The Movement in the Moving Image"
Una's Lecture
Sibley Auditorium, Bechtel Engineering Center
For over 35 years Bill Viola has been instrumental in the establishment of video as a form of contemporary art. Rooted in modern life yet often evoking age-old religious philosophies and visual iconography, Viola's work addresses universal human experiences such as birth, death, and the unfolding of consciousness. His videos and installations characteristically use super-slow motion and exhibit a painterly quality, enveloping viewers in image and sound.
Viola's work has been exhibited at the San Francisco Museum of Modern Art, the Whitney Museum of American Art, the Guggenheim Museum, the J. Paul Getty Museum, London's National Gallery, and the National Gallery of Australia, among many others. His best-known videos include The Passing; Nantes Triptych; The Reflecting Pool; The Crossing; Five Angels for the Millennium; and The Greeting.