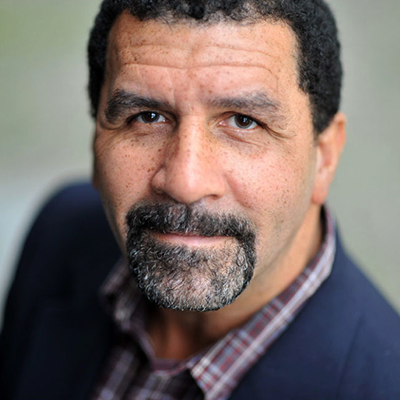 Black Voices in the Shadows of the Big House
Folk Artist Clementine Hunter's Challenge to Southern Gentility Narratives of Slavery and Slave Cabins
Stephen Small (African American Studies) and Ula Y. Taylor (African American Studies) engage in conversation based on Small's recently published book, In the Shadows of the Big House: Twenty-First-Century Antebellum Slave Cabins and Heritage Tourism in Louisiana (Mississippi, 2023). 
One of the most prominent and frequently visited states to benefit from the southern heritage tourist industry, Louisiana is home to more than 60 heritage sites housed in former slave plantations and containing the remains and reconstructions of antebellum slave cabins and slave quarters. 
Focusing on three such sites in the parish of Natchitoches in northwest Louisiana — Oakland Plantation, Magnolia Plantation Complex, and Melrose Plantation — Small explores what representations of slavery and slave cabins in these sites convey about the reconfiguration of the past in Louisiana and the South. While the slave cabins and the enslaved women and men who lived in them are addressed in all three heritage sites, information about them is inferior and subordinate to that which is presented on the plantations' elite white men and women. In the case of Melrose Plantation, Small traces the ways in which the site utilizes a narrative of southern gentility to symbolically annihilate its slave cabins — presenting them not as slave quarters at all, but as writers' cabins occupied by white authors in the 1930s. 
In his search for a compelling counternarrative, Small turns to the artwork of Natchitoches Parish folk artist Clementine Hunter (1886-1988), whose paintings offer a social critique of southern gentility while centering the importance of Black life, culture, celebration, and joy. Small uses Hunter's work to explore how and why the southern gentility narratives utilized by the Louisiana heritage sites can be questioned and challenged.
Stephen Small (African American Studies) is director of Berkeley's Institute for the Study of Societal Issues. His books include 20 Questions and Answers on Black Europe. Born and raised in Liverpool, the city with the UK's longest-standing Black population, Small is at work on a book on Black culture in Liverpool at the end of the 20th century.
Ula Y. Taylor (African American Studies) is the author of The Promise of Patriarchy: Women and the Nation of Islam and The Veiled Garvey: The Life and Times of Amy Jacques Garvey, and co-author of Panther: A Pictorial History of the Black Panther Party and the Story Behind the Film. 
Cosponsored by the Center for Research on Social Change and the Department of African American and African Diaspora Studies