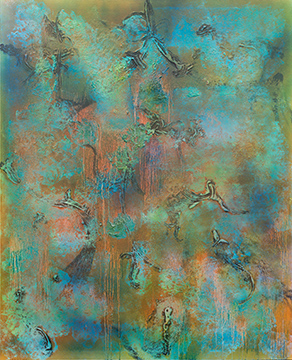 Jerry Carniglia: Paintings
Exhibit
Monday, Feb 1, 2016 12:00 am -
Reception in Honor of the Artist: Thursday, Feb 11, 2016 | 5 pm
Jerry Carniglia had a varied career before turning to painting.
After joining the Navy and serving in Vietnam, Carniglia earned a BA in English and Dramatic Arts from UC Berkeley. He then entered the Bay Area independent theater scene, designing and building sets, and serving as a founding member of the Berkeley Lights Theater Ensemble and San Francisco's Eureka Theatre.
Carniglia supported himself meanwhile as a cabinetmaker. His artistry as a fine woodworker led to gallery and museum recognition.
Eventually feeling limited by the functional requirements of furniture-making, Carniglia, at age 46, earned an MFA in painting from UC Berkeley. For the rest of his life he dedicated himself to exploring abstraction in paint.
In the preface to a recent monograph on his work, Jerry Carniglia: Paintings, Carniglia explains his inspiration and aims in the series of paintings on display at the Townsend Center:
"Whenever I fly over the country, I always try to get a window seat. I especially love the views of Nevada, Utah, and Colorado. Rivers flow from rugged mountains down to the alluvial landscape where the temporary abundance of water slowly evanesces into the land, dropping its silt in patterns on the plains.
"This series aims to vivify the unseen, and for me paint is a medium particularly well suited to making abstract phenomena visible and revealing unexpected meaning. I find a spiritual quality in formal methods when combined with a random process that contrasts successive transparent veils with a buildup of paint. I have become interested in the natural tendril-like flow of paint that has a similar look to the rivulets in my source material."
In an essay on Carniglia's body of work, and his last paintings in particular, painter and former Berkeley faculty member John Zurier reflects:
"For all their allusions to molten geologic formation, paintings like Living on the Land and Untitled 2015 attain a sense of levitation and weightlessness. [….] These two paintings are remarkable for their color — not in their intensity but in their tonal orchestration, subtlety, and atmosphere. The colors of these last paintings show, more than any previous work, that Carniglia is dealing with color as vibration, as force, as the energy of nature itself."
Jerry Carniglia passed away in 2015 at age 69.
More information about Jerry Carniglia's work can be found here.
Exhibit hours are Monday-Friday, 8:30 am - 4:30 pm. The exhibit is located in a meeting space; call 510-643-9670 or email townsendcenter@berkeley.edu in advance for room availability.