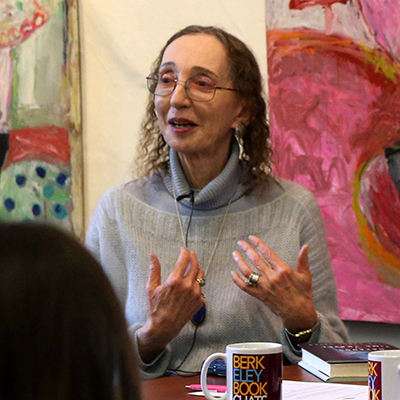 Joyce Carol Oates
In Conversation with John Shoptaw
Thursday, Oct 1, 2020 4:00 pm
Joyce Carol Oates, author of over 70 works of fiction, nonfiction, and poetry, is the Roger S. Berlind '52 Professor Emerita of the Humanities at Princeton University and has taught as a visiting professor of English at UC Berkeley. She is a recipient of the National Humanities Medal, the Carl Sandburg Award for Lifetime Achievement, and the Jerusalem Prize.
The author's oeuvre confronts questions of interiority and violence, American history, and female experience, and it employs a stunningly wide range of genres. The novel Blonde, a finalist for the National Book Award and Pulitzer Prize, tells a semi-fictional tale of Marilyn Monroe's iconic rise to fame. One of the author's most celebrated and haunting short stories, "Where are You Going, Where Have You Been?" confronts sexual awakening and murder in middle America.
Oates, who joined the Princeton faculty in 1978, is a celebrated teacher whose guidance has helped many students go on to become published authors. "Writing and teaching," she notes, "have always been, for me, so richly rewarding that I don't think of them as work in the usual sense of the word."
Her teaching has recently extended into the online realm with a course on the art of the short story. Modeled on the author's writing workshops at Princeton, the course traverses questions of structure and form, drafting and revising, as well as how to mine personal experience for writerly inspiration.
Oates is in conversation with poet John Shoptaw (English) about the craft of writing.