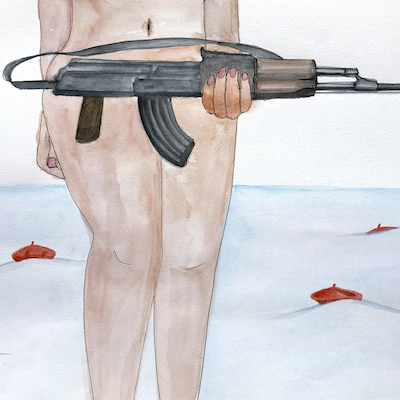 The Legacies of Ukrainian Culture
Thursday, Mar 10, 2022 12:00 pm
Even as much of the world has been preoccupied with the immediate military and geopolitical stakes of Russia's war on Ukraine, panelists turn their attention to the trajectory of Ukrainian culture over the longer arc of history and in the contemporary post-Soviet era.
In a conversation moderated by Harsha Ram (Slavic Languages & Literatures and Comparative Literature), Ukrainian intellectuals and scholars of Ukraine share their perspectives on Ukraine and its culture.
Participants:
Vitaly Chernetsky (University of Kansas), Ukrainian-American literary scholar and author of Mapping Postcommunist Cultures: Russia and Ukraine in the Context of Globalization.
Mayhill Fowler (Stetson University), cultural historian and author of Beau Monde on Empire's Edge: State and Stage in Soviet Ukraine.
Alisa Lozhkina, independent art curator, historian, and critic, and author of Permanent Revolution: Art in Ukraine 20th to the early 21st Century.
Steven Seegel (University of Texas, Austin), specialist in Eastern European critical geography and the digital and spatial humanities, and author of Mapping Europe's Borderlands: Russian Cartography in the Age of Empire, Ukraine under Western Eyes, and Map Men: Transnational Lives and Deaths of Geographers in the Making of East Central Europe. 
 
Cosponsored by Slavic Languages & Literatures and the Institute of Slavic, East European, and Eurasian Studies.
Artwork: Untitled (Detail) by Kinder Album, mixed media on paper, 2019, Lviv.