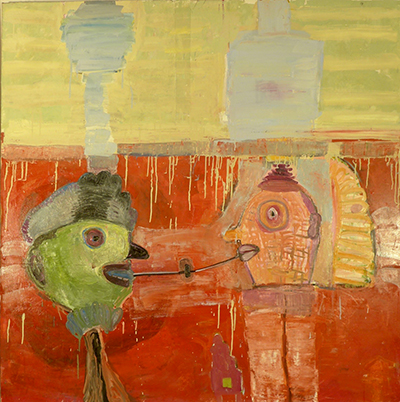 Livia Stein
Monsters and Others
Exhibit
Monday, Jan 28, 2019 12:00 am -
Throughout her work, Livia Stein aims to come to terms with what she calls "the mystery of every human being" — the unarticulated or deeply buried psychic life. "Everyone has their secrets, their thoughts and dreams and disappointments. We see only the surface, even with people we're close to."
Monsters and Others addresses our attempts to penetrate that surface. The paintings depict tentative and often failed efforts at communication between human beings and other sorts of beings (whether animal or monster, real or imagined). The works highlight the gap between "what we try to understand and what we actually grasp" in our encounters.
Born in Dallas and raised in Southern California, Livia Stein holds a BA in history from UC Berkeley and an MA from the Center for Interdisciplinary and Experimental Art at San Francisco State University. She also did graduate work in South Asian studies at the University of Pennsylvania.
Stein has held residencies at the de Young Museum, Legion of Honor, and American Academy in Rome. Her work is held in numerous permanent collections, including those of the Oakland Museum of California, Fine Arts Museums of San Francisco, and University of Iowa Stanley Museum of Art.
For more information on Livia Stein, please visit the artist's website.
Viewing hours are generally Monday through Friday, 9 am to 4 pm. The exhibit is located in a space also used for events and meetings; please call (510) 643-9670 or email in advance to confirm room availability.