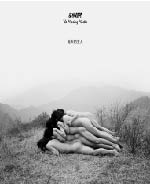 The Missing Master: "China" in Zuoxiao Zuzhou's Music and Art
Joined by Discussant: Michael Timmins, Cowboy Junkies
Heyns Room, Faculty Club
The music of Zuoxiao Zuzhou, one of China's best-known rock musicians, draws playfully on rock and roll, Chinese folk and operatic sounds, and electronic textures. His lyrics are complex, poetically ambiguous, sometimes scabrously funny, and full of heartbreakingly melancholic insights into the harsh social realities of post-socialist China. A leading composer for independent Chinese films, Zuzhou has worked closely with Ai Weiwei and Jia Zhangke. He is one of the founding members of the "East Village" artists of the 1990's – a Beijing based group of artists who fueled the explosion of Chinese visual and performance art in the global marketplace. Zuzhou is also a novelist and memoirist; his two published books feature creative accounts of the artistic life in a country hell-bent on development at any cost.
Michael Timmins is the songwriter and guitarist for Cowboy Junkies, the Canadian alternative country/blues/folk/rock band formed in Toronto in 1985. Their second album, "The Trinity Session," earned them both critical attention and a cult following. The band's version of The Velvet Underground song, "Sweet Jane" was featured in the film Natural Born Killers. Their Nomad Series includes the 2010 album, "Renmin Park."
Zuoziao Zuzhou will discuss his music and art with songwriter and guitarist, Michael Timmins.
Free and open to the public. Co-sponsored by Center for Chinese Studies (CCS) and Townsend Center for the Humanities
Event Contact: ccs@berkeley.edu, 510-643-6321