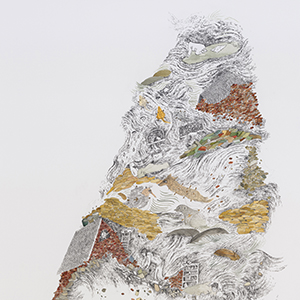 New Drawings
Jennie Smith
Exhibit
Monday, Sep 18, 2017 12:00 am -
In her delicate, detailed graphite drawings, artist Jennie Smith combines close observation of the natural world with a deeply imaginative sensibility. Her body of work reflects a fascination with the environment, a willingness to confront ecological crises, and a determination to find beauty and mystery in what she sees.  
At the Townsend Center, Smith presents a new project exploring our psychic investment in childhood landscapes. Her "biographical maps" give visible expression to individuals' memories of the places in which they were raised — a testament to the enduring effects of landscape on the psyche.
A San Francisco native who lives a short walk from the Pacific Ocean, Smith also presents a new installment in her career-long engagement with the Northern California coast. On display are pieces inspired by such Bay Area phenomena as the windswept cypress trees along Lands End, and the movement and sound of rattlesnake grass.
Smith received an MFA from UC Berkeley and a BFA from the Minneapolis College of Art and Design. She was an invited artist in the 2006 Whitney Biennial and is currently represented by the Rena Bransten Gallery in San Francisco. Her illustrated book of folk songs, The Littlest Birds Sing the Prettiest Songs, was published by Chronicle Books.
Viewing hours are generally Monday through Friday, 9 am to 4 pm. The exhibit is located in a space also used for events and meetings; please call (510) 643-9670 or email in advance to confirm room availability.