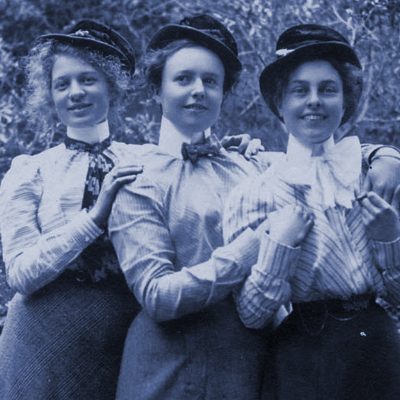 An Ongoing Revolution
Reflections on Gendered Struggles and Feminist Scholarship in the Humanities
Wednesday, Apr 21, 2021 4:00 pm
On October 3, 2020, UC Berkeley celebrated the 150th anniversary of admitting women as undergraduate students. The 150 Years of Women at Berkeley History Project has responded to Chancellor Carol Christ's call to "convert this anniversary into a lasting archive" by documenting the struggles and achievements of students, faculty, and staff since 1872 — from the earliest days of "co-education," to the "gender revolution" of the sixties and seventies, and beyond. 
 
To join in the commemoration, the Townsend Center presents An Ongoing Revolution: Reflections on Gendered Struggles and Feminist Scholarship in the Humanities. Faculty members representing Comparative Literature, English, East Asian Languages & Cultures, History of Art, Music, and Spanish & Portuguese gather for a discussion of the role and experience of women at Berkeley, asking such questions as, how have departmental and disciplinary cultures changed over the years? How have issues of gender and feminism been brought to bear on scholarship and teaching? What has been the changing relationship between political battles in the streets and research in the academy? Whose stories have we lost track of as institutional life continues to transform? What fights are still to come?
Participants:
Catherine Gallagher (English), moderator
Darcy Grimaldo Grigsby (History of Art)
Francine Masiello (Comparative Literature and Spanish & Portuguese)
Mary Ann Smart (Music)
Sophie Volpp (Comparative Literature and East Asian Languages & Cultures)
 
About the Speakers:
Catherine Gallagher is Ida May and William J. Eggers Professor Emerita in the Department of English, and co-chair of the 150 Years of Women at Berkeley History Project. She is a member of the American Philosophical Society and the American Academy of Arts and Sciences, and a recipient of NEH, ACLS, and Guggenheim fellowships. She was a founding member of the editorial board of the journal Representations and served as its co-editor for ten years, helping to popularize a form of literary studies known as "new historicism." Her books on British literature and cultural history include The Industrial Reformation of English Fiction (1985), Nobody's Story: The Vanishing Acts of Women Writers in the Marketplace, 1670-1820 (1994), and The Body Economic: Life, Death, and Sensation in Political Economy and the Victorian Novel (2006). Her latest book, Telling It Like It Wasn't: The Counterfactual Imagination in History and Literature (2018), won the American Philosophical Society's Jacques Barzun Prize for the year's best book in cultural history.
 
Darcy Grimaldo Grigsby is the Richard and Rhoda Goldman Distinguished Professor in the Arts and Humanities and winner of the Clark Prize for Excellence in Arts Writing. Born in the Panama Canal Zone, she was raised by her Panamanian single mother, who worked as a secretary at UC Berkeley; for her bachelor's degree she went to her local university (UC Berkeley) and has been a professor here since 1995. Grigsby specializes in 18th- through 20th-century French and American art and material culture, with a focus on the politics of race, slavery, and colonialism. She is the author of three books: Extremities: Painting Empire in Post-Revolutionary France (2002); Colossal: Engineering the Suez Canal, Statue of Liberty, Eiffel Tower, and Panama Canal (2012); and Enduring Truths: Sojourner's Shadows and Substance (2015). Her fourth book, Creole: Portraits of France's Foreign Relations in the Nineteenth Century, is forthcoming. She is at work on a new project provisionally entitled For Want of Color, which examines the pervasive amateur practice of hand-coloring personal photographs from the 19th century to the 1950s. 
 
Francine Masiello is Sidney and Margaret Ancker Professor Emerita in the Departments of Comparative Literature and Spanish & Portuguese. Her scholarship examines the relationship between politics and literature, culture under dictatorship and the transition to democracy, and, more recently, the idea of "South" as a problem for literature and philosophy. Gender questions cut through all of her writing, but her 1992 book, Between Civilization and Barbarism: Women, Nation, and Literary Culture in Latin America, opened a scholarly field by examining the archival history of women of letters over two centuries in Argentina. Her most recent book, The Senses of Democracy: Perception, Politics, and Culture in Latin America (2018), which explores the history of perceptions in culture, literature, and the visual arts from the 19th century to the present, puts the gender system at the center of discussion.
 
Mary Ann Smart is Gladyce Arata Terrill Professor of Music. She is the author of Mimomania: Music and Gesture in Nineteenth-Century Opera (2004) and Waiting for Verdi: Opera and Political Opinion in Italy (2018), and the editor of Siren Songs: Representations of Gender and Sexuality in Opera. She is currently at work on a book about how new technologies and modes of listening impacted French theories of language in the mid-twentieth century. She has been on the Berkeley faculty since 1996, and has had the great good fortune to be surrounded and supported by a strong group of female colleagues through all of that time.
 
Sophie Volpp, professor of East Asian Languages & Cultures and Comparative Literature, specializes in Chinese literature of the 16th through 19th centuries. Her first book, Worldly Stage: Theatricality in Seventeenth-Century China (2011), examines the ideological niche occupied by the theater during late Ming and early Qing China. Her second book, The Substance of Fiction: Literary Objects in China 1550-1775, will be published in fall 2021 by Columbia University Press. Her in-progress book on Chinese literature, "The Stone and the World," explores Cao Xueqin's encyclopedic 18th-century novel, The Story of The Stone. She is also at work on a book about the National Peiping Library and its efforts to preserve rare books during the Second Sino-Japanese war.