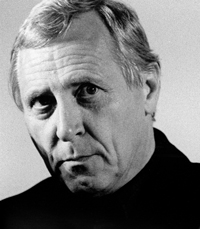 Peter Greenaway, Filmmaker
"New Possibilities: Cinema is Dead, Long Live Cinema"
Avenali Lecture
Zellerbach Playhouse
Peter Greenaway, who trained as a painter for four years, started making films in 1966. His first narrative feature film, The Draughtsman's Contract (1982), earned him international acclaim as an original filmmaker, a reputation consolidated by The Cook, the Thief, his Wife & her Lover (1989), Prospero's Books (1991), The Pillow Book (1996), The Tulse Luper Suitcases (2003-2004), and more recently, Nightwatching (2007). His work in cinema has also informed numerous exhibitions and installations in Europe, from Venice's Palazzo Fortuny and Barcelona's Joan Miró Gallery to Rotterdam's Boymans van Beuningen Gallery and Paris's Louvre. Regularly nominated for the film festival competitions of Cannes, Venice, and Berlin, Greenaway has published books, written opera librettos, and collaborated with composers Michael Nyman, Philip Glass, Louis Andriessen, Borut Krzisnik, and David Lang, among others. Greenaway has also recently begun a series of digital video installations, titled Nine Classical Paintings Revisited, in which he uses a contemporary sensibility and employs cutting-edge image technology to "revisit" some of the most renowned paintings in Western art history, from the Renaissance up to Picasso and Pollock.
Peter Greenaway's presentations took place in Zellerbach Playhouse thanks to a collaboration with Cal Performances. Biographical information adapted from www.petergreenaway.info