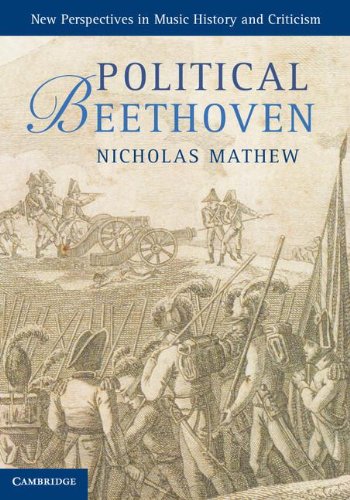 Political Beethoven
Nicholas Mathew
Berkeley Book Chats
Geballe Room, 220 Stephens Hall
Professor of Music Nicholas Mathew's research interests include the Enlightenment, German Romanticism, Beethoven, Haydn, German instrumental music, Vienna, aesthetics, politics and ideology, materialism, pianos and performance. His latest publication, Political Beethoven (Cambridge, 2013), explores the musical and social contexts of Beethoven's political music from the Napoleonic Wars to the present day.
Musicians, music lovers and music critics have typically considered Beethoven's overtly political music as an aberration, at best. And at worst, this work is denigrated and ignored. In Political Beethoven Nicholas Mathew returns to the early marches and anti-French war songs of the 1790s, as well as the grand orchestral and choral works for the Congress of Vienna, to argue that this marginalized functional art has much to teach us about the lofty Beethovenian sounds that came to define serious music in the nineteenth century. Mathew shows how Beethoven's much-maligned political compositions lead us into the intricate political and aesthetic contexts that shaped all of his oeuvre, thus revealing the stylistic, ideological and psycho-social mechanisms that gave Beethoven's music such a powerful voice—a voice susceptible to repeated political appropriation, even today.
After an introduction by Thomas Laqueur (History), Professor Mathew will speak briefly about his work, read a short excerpt, and then open the floor for discussion.