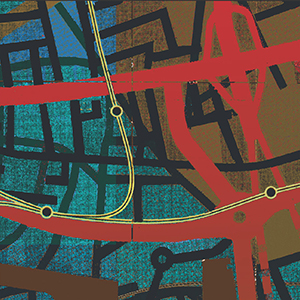 Through the Black Country
Allan deSouza
Exhibit
Monday, Jan 23, 2017 12:00 am -
Allan deSouza, chair of UC Berkeley's Department of Art Practice, presents an exhibition that reenacts and upends the traditional colonial relationship, positioning modern-day England as the object of investigation by an explorer from Africa.
The maps, journal entries, photographs, and sketches that comprise the show are conceived through the perspective of Zanzibari explorer Hafeed Sidi Mubarak Mumbai, the fictional great-grandson of renowned guide Sidi Mubarak Bombay, who led British explorers on numerous treks through East Africa and was known as Africa's greatest 19th-century traveler. Even as he takes on an independent existence, Mumbai also incorporates deSouza's own history of immigration from Africa to Britain. 
In deSouza's telling, Mumbai's own travels take him through contemporary England in search of the fabled and elusive source of the River Thames. In a journey modeled on Henry Stanley's African expeditions to find the source of the Nile, Mumbai sets off from London's East End to the Black Country of industrial and coal regions.
DeSouza is a multimedia artist who joined the UC Berkeley faculty in 2013, after serving as chair of the New Genres program at the San Francisco Art Institute. Through his visual art, writing, and performance, deSouza seeks to interrogate colonialism and its legacy by restaging historical material, using strategies of fiction and (mis)translation. His work has been shown extensively in the US and abroad, including at the Phillips Collection, the International Center of Photography, and the Centre Georges Pompidou. He is represented by Talwar Gallery, New York and New Delhi.