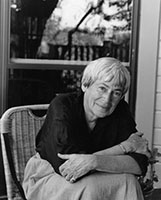 Ursula K. Le Guin, Writer
What Can Novels Do? A Conversation with Ursula K. Le Guin
Avenali Lecture
Sibley Auditorium, Bechtel Engineering Center
Avenali Chair in the Humanities Ursula K. Le Guin in conversation with Michael Lucey (Comparative Literature and French).
Ursula K. Le Guin is the author of more than one hundred short stories, four collections of essays, seven volumes of poetry, and nineteen novels. Her best-known fantasy works, the Earthsea books, have sold millions of copies and have been translated into sixteen languages. The Left Hand of Darkness, her first major work of science fiction, is considered epoch-making in the field due to its radical investigation of gender roles as well as its moral and literary complexity. Le Guin has received the National Book Award, five Hugo Awards, five Nebula Awards, SFWA's Grand Master, the Kafka Award, a Pushcart Prize, the Howard Vursell Award of the American Academy of Arts and Letters, the L.A. Times Robert Kirsch Award, the PEN/Malamud Award, and the Margaret A. Edwards Award. She has also been a finalist for the American Book Award three times and once for the Pulitzer Prize.
Le Guin was born Ursula Kroeber, and raised in Berkeley, California, the daughter of anthropologist Alfred L. Kroeber and writer Theodora Kroeber. She graduated from Radcliffe College and studied at Columbia University. She lives in Portland, Oregon.
The Avenali Lecture is free and open to the public, but tickets are required for entry. Free, general admission tickets will be available at the door one hour before the event on a first come, first served basis.