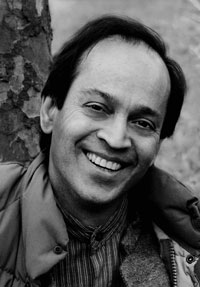 Vikram Seth, Writer
Una's Lecturer, 2012-2013
Una's Lecture
Monday, Oct 15, 2012 6:00 pm
Una's Lecture: "An Evening in Conversation with Vikram Seth"
Monday, October 15, 2012
6:00 pm | International House, Chevron Auditorium
Vikram Seth in conversation with novelist Vikram Chandra (English, Center for South Asia Studies).
Panel Discussion: "The Writer and the World: On Literature, Music, Imagination and Critical Reflection in India and Beyond"
Tuesday, October 16, 2012
4:00 pm | Maude Fife Room, 315 Wheeler Hall
Vikram Seth in conversation with UC Berkeley faculty panelists Lawrence Cohen (Anthropology, South and Southeast Asian Studies), Davitt Moroney (Music), Harsha Ram (Slavic Languages & Literatures, Comparative Literature), Ananya Roy (City and Regional Planning, Global Poverty and Practice), and Mary Ann Smart (Music). Moderated by Alan Tansman (Director of the Townsend Center). This panel discussion is co-sponsored by the Center for South Asia Studies.
Vikram Seth is a poet, novelist, travel writer, librettist, children's writer, and memoirist. His acclaimed first novel, The Golden Gate, is written entirely in Onegin stanzas after the style of Alexander Pushkin's Eugene Onegin. His 1474-page novel A Suitable Boy, an epic of Indian life set in the 1950s, won both the WH Smith Literary Award and the Commonwealth Writers' Prize. Seth has also published several volumes of poetry including The Humble Administrator's Garden and All You Who Sleep Tonight, the children's book Beastly Tales from Here and There and a number of works of non-fiction, including From Heaven Lake and Two Lives.
Seth was born in Calcutta in 1952. He attended Tonbridge School in England before going on to study philosophy, politics and economics at Oxford University and completing a graduate degree in economics at Stanford University.