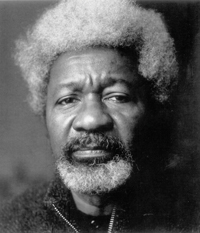 Wole Soyinka, Writer
"Rights and Relativity: The Interplay of Cultures"
Avenali Lecture
Wheeler Auditorium
Writer, playwright and poet, Wole Soyinka was the first African to be awarded the Nobel Prize for Literature in 1986. Soyinka is known as an outspoken critic of many Nigerian military dictators and of political tyrannies worldwide. At the beginning of the Nigerian Civil War in 1967, Mr. Soyinka was jailed without trial for twenty-seven months. He has also lived in exile at three points in his life, most notably during the government of General Sani Abacha.
These personal and national hardships have been at the heart of Soyinka's work, which includes a sequence of remarkable plays, novels, poetry, polemical writings, critical essays, and memoirs. Soyinka is involved in numerous international artistic and human rights organizations, including the United Nations Commission on Human Rights and the International Parliament of Writers. In 1994, he was named UNESCO Goodwill Ambassador for the promotion of African culture, human rights, freedom of expression, media and communication.