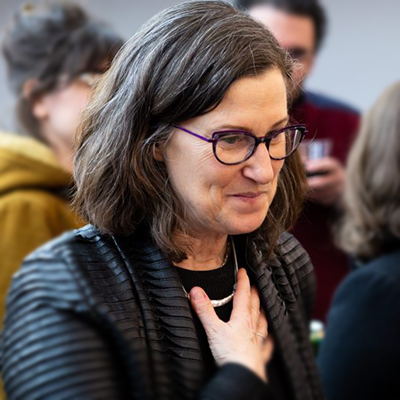 Bonnie Honig in Conversation
with Marianne Constable, Mario Teló, and Dora Zhang
Tuesday, Nov 14, 2023 5:00 pm
Political theorist Bonnie Honig, the 2023-24 Una's Lecturer, engages in conversation with UC Berkeley faculty members Marianne Constable (Rhetoric), Mario Teló (Rhetoric, Ancient Greek & Roman Studies, and Comparative Literature), and Dora Zhang (English).
Honig is Nancy Duke Lewis Professor of Modern Culture and Media and Political Science at Brown University. She has made major contributions to the fields of democratic theory and feminist political theory, and to the political analysis of art and culture. Her books include Democracy and the Foreigner (2001), Public Things: Democracy in Disrepair (2017), and A Feminist Theory of Refusal (2021). 
Honig delivers the Una's Lecture on Monday, November 13, at 5:00 pm in the Maude Fife Room, 315 Wheeler Hall.