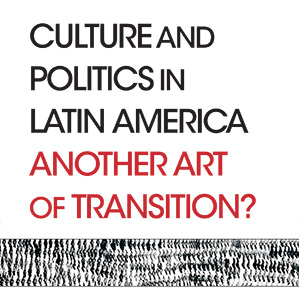 Culture and Politics in Latin America: Another Art of Transition?
A Symposium in Honor of Professor Francine Masiello
Friday, Nov 13, 2015 12:00 am -
Geballe Room, 220 Stephens Hall
This symposium explores 21st century Latin America with an emphasis on the transitions and crises that have marked the cultural field. While the shift from dictatorship to democracy has defined many cultural environments and stimulated new ways of thinking community through art and collaboration, Latin America has also experienced unprecedented extremes of violence and displacement. Literature and the arts have certainly captured these tensions. In some cases, they project a celebration of the new with an unqualified defense of avant-garde innovation; in others, they reveal a deep lament for the failures of a social project and expose the limitations of art to break through the neoliberal paradigm that holds us in thrall. In the process, we see a re-valuation of time, place, and the bodies and materials that define our postmodern times.
A detailed program can be viewed on the symposium website.
 
Friday, Nov 13, 2015 | 8:45 am - 6:00 pm
220 Stephens Hall
Speakers: Leonor Arfuch (Argentina), Carmen Boullosa (Mexico), Diamela Eltit (Chile), Andrea Jeftanovic (Chile), Robert Kaufman (Berkeley), Gwen Kirkpatrick (Georgetown), Francine Masiello (Berkeley), Raquel Olea (Chile), Beatriz Sarlo (Argentina).
Saturday, Nov 14, 2015 | 8:45 am - 6:00 pm
220 Stephens Hall
Panelists: Christine Arce (University of Miami), Anna Deeny (Georgetown), Sarah Moody (University of Alabama), Munia Bhaumik (Emory), Mayra Bottaro (University of Oregon), Rocio Ferreira (DePaul), Myrna García-Calderón (Syracuse), Victor Goldgel-Carballo (University of Wisconsin, Madison), Tom McEnaney (Cornell), Sergio Waisman (George Washington), Sarah Wells (University of Wisconsin, Madison).
Poetry Readings: Arturo Dávila (Mexico), Francisco Leal (Chile), Mercedes Roffé (Argentina).
Presented in collaboration with the Departments of Spanish and Portuguese and Comparative Literature.
[Image credit: Andrés Waissman. El Origen del Desamparo, Serie Multitudes. 2010]