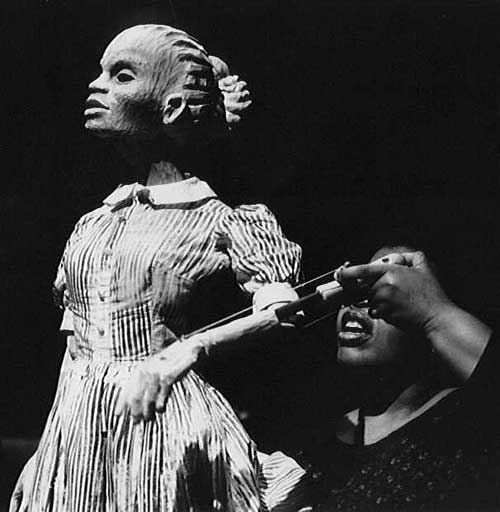 Impossible Machines
Puppets, Politics & Truth Commissions
Wheeler Auditorium
This symposium reflects on legacies of reconciliation, accountability, and impunity in South Africa and elsewhere in the world and is the culminating event in a campus-wide dialogue that includes a March 11 Cal Performances concert by Hugh Masekela and Vusi Mahlasela, a March 12 screening of the film A Letter to Nelson Mandela, and a March 13 gathering of key voices from the generation of South Africans who have come of age in a post-apartheid world at the South Africa After Mandela symposium.
1:00 pm | Keynote
Catherine Cole, Director and Professor, Department of Theater, Dance and Performance Studies
1:30 pm-3:00 pm | Living in a Majority/Minority State
Participants will investigate the parallels between South Africa at the end of apartheid and California; raising issues of economic inequity and the realities of a minority/majority state.
Featured speakers: James Campbell (History, Stanford), Gillian Hart (Geography, Berkeley), author of Rethinking the South African Crisis: Nationalism, Populism, Hegemony, and Alan Tansman (Director, Townsend Center)
3:15 pm-4:15 pm | About Ubu and the Truth Commission
Jane Taylor (Playwright and Cultural Critic) and Catherine Cole (TDPS, Berkeley)
4:30 pm-5:45 pm | Puppets and Politics
Basil Jones (Executive Producer, Handspring Puppet Company) and Janni Younge (Lead Artist, Ubu and the Truth Commission), Linda Elbow (Bread and Puppet Theater), Claudia Orenstein (Theatre, Hunter College and co-editor, The Routledge Companion to Puppetry and Material Performance) and Frank Smiegel (Associate Curator of Performance and Film, SFMOMA.)
5:45 pm | Closing Remarks and Q & A
Alan Tansman (Director, Townsend Center)
This event is free and open to the public. For more information and to RSVP click here.
Presented by Cal Performances in association with the Department of Theater, Dance and Performance Studies, the Center for African Studies, and the Townsend Center for the Humanities.