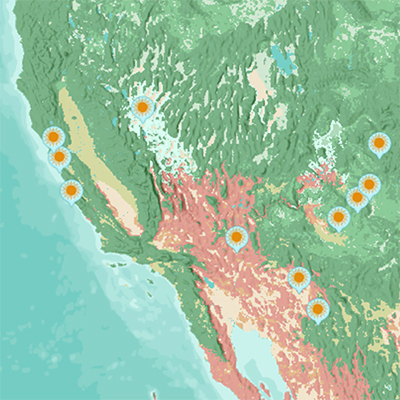 Joy Harjo in Conversation
With Beth Piatote
Thursday, Feb 25, 2021 4:00 pm
Joy Harjo, the 2020-21 Avenali Chair in the Humanities, engages in conversation with Beth Piatote (Comparative Literature and Ethnic Studies, UC Berkeley).
A writer, editor, and musician, Harjo is the 23rd US Poet Laureate. She is a member of the Muscogee (Creek) Nation and the first Native American to hold the position of Poet Laureate.
Harjo discusses her signature project as Poet Laureate. Living Nations, Living Words: A Map of First Peoples Poetry presents the work of contemporary Native poets in a national, fully digital and interactive map featuring audio recordings by authors. Developed in collaboration with the Library of Congress's Geography and Map Division, the project maps 47 contemporary Native American poets across the country — including Louise Erdrich, Natalie Diaz, Ray Young Bear, and Craig Santos Perez. A companion anthology, edited and with an introduction by Harjo, is forthcoming from Norton in May 2021.
Librarian of Congress Carla Hayden recently announced the appointment of Harjo to a third term, to begin in September 2021, making her only the second laureate to receive this extension since terms for the position were established in 1943.
Harjo talks with Beth Piatote, a scholar of Native American/Indigenous literature, language, and law, and a creative writer of fiction, poetry, plays, and essays.