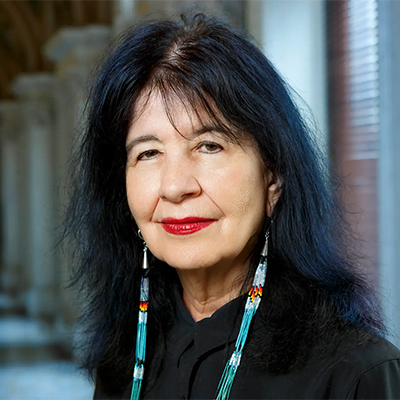 Joy Harjo, Writer
When the Light of the World Was Subdued, Our Songs Came Through
Avenali Lecture
Wednesday, Feb 24, 2021 4:00 pm
Joy Harjo, the 23rd US Poet Laureate, is the 2020-21 Avenali Chair in the Humanities. A writer, editor, and musician, Harjo is a member of the Muscogee (Creek) Nation and the first Native American to hold the position of Poet Laureate.
Harjo is the author of nine books of poetry, a memoir, a variety of plays and screenplays, and two award-winning children's books. She is also the editor of three major anthologies of Native writing. Her many awards include the 2019 Jackson Prize from the Poetry Society of America, the Ruth Lilly Prize from the Poetry Foundation, the 2015 Wallace Stevens Award from the Academy of American Poets, and the William Carlos Williams Award from the Poetry Society of America. Born in Tulsa, Oklahoma, she earned her BA at the University of New Mexico and her MFA at the Iowa Writers' Workshop.
Harjo's poetry draws on indigenous myths, symbols, and histories, as well as feminist and social justice poetic traditions. Her work is often autobiographical, and marked by an engagement with the limitations of language and the need for remembrance and transcendence. Informed by the natural world, her work invokes the landscapes of the Southwest, Southeast, Alaska, and Hawaii. Reflecting on her mission as a writer, Harjo says:
I feel strongly that I have a responsibility to all the sources that I am: to all past and future ancestors, to my home country, to all places that I touch down on and that are myself, to all voices, all women, all of my tribe, all people, all earth, and beyond that to all beginnings and endings. In a strange kind of sense [writing] frees me to believe in myself, to be able to speak, to have voice, because I have to; it is my survival.
As Avenali Chair, Harjo participates in two events, both of which focus on her prodigious editorial accomplishments:
On Wednesday, Feb 24, 2021, at 4 pm PST, Harjo talks with Craig Santos Perez about her literary antecedents and the recently-published anthology When the Light of the World Was Subdued, Our Songs Came Through: A Norton Anthology of Native Nations Poetry. Harjo is executive editor of the 2020 anthology, which has been hailed as a literary milestone. Perez (PhD Ethnic Studies, UC Berkeley) is a poet and professor of English at the University of Hawai'i, Mānoa; his work has been anthologized by Harjo.
On Thursday, Feb 25, 2021, 4pm PST, Harjo joins Beth Piatote (Comparative Literature and Ethnic Studies, UC Berkeley) to discuss her signature project as Poet Laureate. Living Nations, Living Words: A Map of First Peoples Poetry presents the work of contemporary Native poets in a national, fully digital and interactive map featuring audio recordings by authors. A companion anthology, edited and with an introduction by Harjo, is forthcoming from Norton in May 2021.