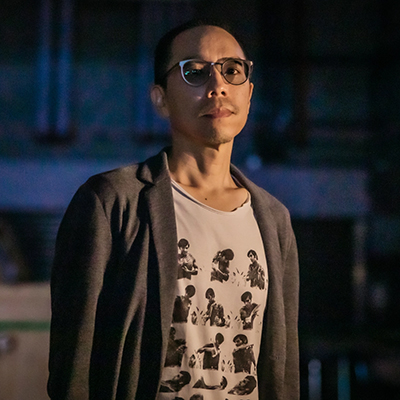 Apichatpong Weerasethakul, Filmmaker
In Conversation with Hilton Als
Una's Lecture
Tuesday, Apr 11, 2023 5:10 pm
Free admission. Tickets available at the BAMPFA admissions desk beginning at 4:00 pm.
Filmmaker Apichatpong Weerasethakul is the 2022-23 Una's Lecturer. His work has won widespread acclaim and numerous awards, including the Cannes Film Festival's Palme d'Or for Uncle Boonmee Who Can Recall His Past Lives (2010).
Born in Bangkok in 1970, Weerasethakul lives and works in Chiangmai, Thailand. His films employ experimental narrative and cinematic techniques to explore such themes as nature, sexuality, and dreams. They are marked by what Artforum critic James Quandt describes as a drive to "turn everyday objects and images into the ineffable and enigmatic, inhabitants of a phantom zone where the hard, 'real' world . . . cedes dominion to a magical realm of reverie and desire."
Weerasethakul's feature films include Tropical Malady, which won a jury prize at the 2004 Cannes Film Festival; Syndromes and a Century, which premiered at the 63rd Venice Film Festival and was the first Thai film to be entered in competition there; and Cemetery of Splendour, which premiered in the Un Certain Regard section of the 2015 Cannes Film Festival to critical acclaim. 
For the Una's Lecture, Weerasethakul is in conversation with Hilton Als (English), who probes the filmmaker's career arc and filmmaking practice, as well as the particular political challenges involved in making film in Thailand. Als also explores whether Weerasethakul's practice has changed with the making of Memoria (2021), the director's first film set outside of Thailand, asking whether that film and its reception — it received the Cannes Film Festival's Jury Prize — have altered his sense of the kinds of work he wants to do in the future. 
Als is a staff writer at the New Yorker magazine and the author of The Women, White Girls, and My Pinup. His most recent curatorial project is Joan Didion: What She Means at the Hammer Museum in Los Angeles. His article on "The Metaphysical World of Apichatpong Weerasethakul's Movies" appeared in the New Yorker in 2022.
In conjunction with Weerasethakul's campus residency, Berkeley Art Museum and Pacific Film Archive presents a retrospective of his films and his installation Morakot (Emerald). See BAMPFA for more information and to purchase tickets.
Cosponsored by the UC Berkeley Art Museum and Pacific Film Archive.