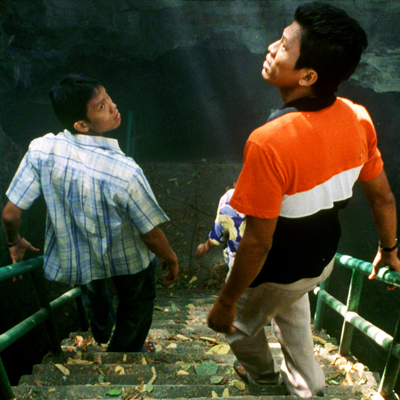 Desire and Relationality in the Films of Apichatpong Weerasethakul
Monday, Apr 10, 2023 4:00 pm
In conjunction with Apichatpong Weerasethakul's campus residency, Una's Lecture, and film retrospective, two prominent scholars of the artist discuss his cinematic treatment of desire, relationality, and other compelling interpersonal themes.
Born in Bangkok in 1970, Weerasethakul lives and works in Chiangmai, Thailand. His films have won widespread acclaim and numerous awards, including the 2010 Cannes Film Festival's Palme d'Or for Uncle Boonmee Who Can Recall His Past Lives, and the 2004 Cannes Jury Prize for Tropical Malady. His visual art, which encompasses film and video installation, photography, and drawing, has been widely exhibited in galleries across Europe and the US. Permeating his oeuvre is a preoccupation with nature, sexuality, and dreams; a style that combines both realism and surrealism; a concern with people who have been marginalized for personal and political reasons; and the use of Buddhist tradition and Thai folklore.
Participants:
Arnika Fuhrmann, professor of Asian Studies at Cornell University, is a scholar of Thai film, literature, and culture. Her work approaches the study of Southeast Asia through a focus on affect, gender, urban studies, and media theory, and is anchored in cultural, linguistic, and historical knowledge of the region. She is the author of Ghostly Desires: Queer Sexuality and Vernacular Buddhism in Contemporary Thai Cinema (Duke, 2016) and Teardrops of Time: Buddhist Aesthetics in the Poetry of Angkarn Kallayanapong (SUNY, 2020). She is currently at work on two book projects: "In the Mood for Texture," which investigates Bangkok as a Chinese city and focuses on the revival of the aesthetics of Chinese pasts and colonial modernity across cinema and hospitality venues, and "Digital Futures: South/east Asian Media Temporalities and the Expansion of the Sphere of Politics." She serves on the editorial board of positions: asia critique and on the curatorial team of the Asian Film Festival Berlin.
Fuhrmann presents a paper entitled "Karma, Kinship, and Queerness in Apichatpong Weerasethakul's Work."
Jean Ma is professor at Stanford University, where she holds positions in the departments of art & art history and film & media studies, and serves as director of the Stanford Arts Institute. She has published books on the temporal poetics of Chinese cinema (Melancholy Drift: Marking Time in Chinese Cinema, 2010) and singing women on film (Sounding the Modern Woman: The Songstress in Chinese Cinema, 2015). Her most recent book, At the Edges of Sleep: Moving Images and Somnolent Spectators (2022), considers sleep in film and moving image art as both a subject matter to explore onscreen and a state to induce in the audience. The book focuses on the work of Apichatpong Weerasethakul, who has explored the subject of sleep systematically throughout his career.
Ma presents a paper entitled "The Sleeper and the Lover: Apichatpong Weerasethakul's Expanded Fields of Intimacy."
The event is moderated by Pheng Cheah. (Rhetoric)
In conjunction with Weerasethakul's campus residency, Berkeley Art Museum and Pacific Film Archive presents a retrospective of his films and his installation Morakot (Emerald). See BAMPFA for more information and to purchase tickets.
Cosponsored by the Center for Southeast Asia Studies.