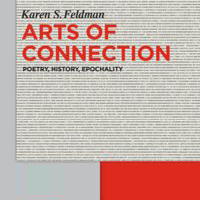 Arts of Connection: Poetry, History, Epochality
Karen Feldman
Berkeley Book Chats
Click Here to Watch the Livestream.
Working at the intersection of literary theory, philosophy of history, and phenomenology, Karen Feldman (German) explores the representation of connections between events in literary, historical, and philosophical narratives.
Events in a story can be seen as ordered according to proximate causation, in which one event leads diachronically to the next; they can also be understood in view of the structure of the narrative as a whole — for instance, in terms of the unity of plot. Feldman argues that there exists an essential narrative tension between these two kinds of connection: between the overarching arrangement or plot that holds together events from "outside" in order to produce an intelligible whole, and the portrayal of one-by-one, "interstitial" connections between events within the narrative.
Drawing upon Aristotle and classical German poetics, 18th-century philosophy of history, and 20th-century phenomenology, Arts of Connection (De Gruyter, 2019) demonstrates that the task of connection is a fraught one, insofar as the formal unity of narrative competes or interferes with the representation of one-by-one connections between events.
Feldman is joined by Mario Telò (Ancient Greek & Roman Studies). After a brief discussion, they respond to questions from the audience.