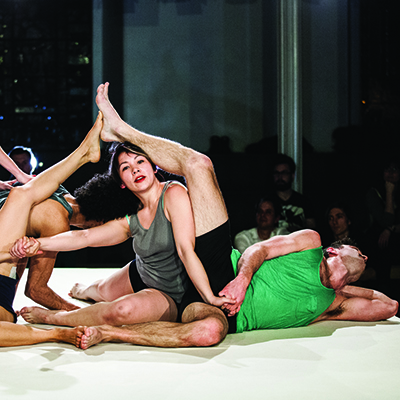 Back Stages: Essays across Art, Performance, and Public Life
Shannon Jackson
Berkeley Book Chats
In-person space is limited. Click here to view the livestream.
In this collection of twenty essential essays spanning her career, Shannon Jackson (Rhetoric and Theater, Dance & Performance Studies) explores a range of disciplinary, institutional, and political puzzles that engage the social and aesthetic practice of performance. 
Tracking the variously fraught and allied relationships of performance to literary studies, art history, visual culture, theater, social theory, and critical theory, Back Stages (Northwestern, 2022) considers the place of performance within the contemporary field of socially-engaged art. 
At a time of increased aesthetic experimentation and political debate within the art world, these essays focus on artists, groups, and cultural organizations whose experiments have challenged conventions of curation and critique — including Theaster Gates, Paul Ramirez Jonas, Harrel Fletcher, and My Barbarian. Charting the political ambivalences of performance from the late nineteenth to the twenty-first century, Jackson unearths cross-disciplinary connections and provides new opportunities for mutual engagement within a wide network of educational, artistic, and civic sectors.
Jackson is joined by Judith Butler (Comparative Literature). After a brief discussion, they respond to questions from the audience.