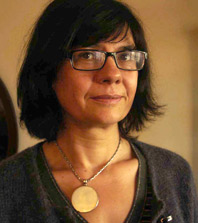 Catherine Malabou, Philosopher
Odysseus' Changed Soul
Una's Lecture
Banatao Auditorium, Sutardja Dai Hall
French Philosopher Catherine Malabou teaches at the Centre for Research in Modern European Philosophy at Kingston University in London. She is the author of The Future of Hegel (2005), What Should We Do with Our Brain? (2008), Plasticity at the Eve of Writing (2009) and Self and Emotional Life: Philosophy, Psychoanalysis, and Neuroscience (2013). Her work has created the foundation for a wide range of current research focusing on the intersections between neuro- and biological science and the humanities. Her Una's lecture, "Odysseus' Changed Soul," will offer a contemporary reading of Plato's myth of Er (Republic, Book 10).
Professor Malabou will be in residence March 31 - April 28, 2014. She will offer a four-week graduate seminar entitled "Animation/Reanimation: New Starts in Eternal Recurrence." Malabou will be a featured speaker in a co-sponsored interdisciplinary conference on the topic of "Animation/Reanimation" April 18, 2014 and participate in a two-day workshop April 11-12, 2014 entitled "Plasticity and Pathology: The History and Theory of Neural Subjects." 
The Una's Lecture is free and open to the public.