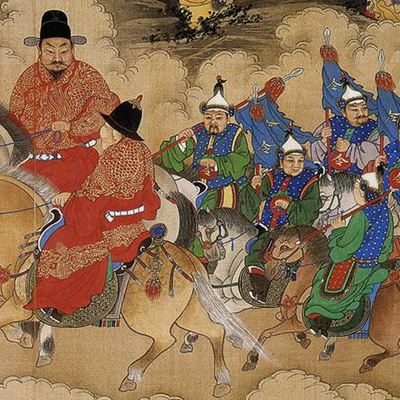 The Invention of Humanity, East and West
In Dialogue with China: Art, Culture, Politics
Wednesday, Mar 16, 2022 4:00 pm
An academic commonplace has the early 5th-century Greeks inventing the first theories of consciousness, the polis, and the self, in what used to be dubbed "the Greek miracle." This conversation considers a still more fundamental question: which civilizations gave rise to the notion of a shared humanity, and why? As panelist Siep Stuurman writes in his book The Invention of Humanity, "common humanity and equality are not primeval facts" that simply awaited discovery by people in one specific time and place. Instead, such ideas were "novel and potentially disruptive ways" of perceiving a broad range of human relationships.
This conversation focuses on two early masterworks by two celebrated historians, Herodotus and Sima Qian, who somehow came to imagine that all inhabitants of the known world — regardless of ethnic origin, native place, or status — constitute a single human community whose contours must be explored if people are to learn how to prosper and flourish. The impact of their ruminations on Western and Chinese culture has arguably been as profound and enduring as that of any religious leader.
This event is part of a yearlong series grounded in the conviction that for the United States to engage in dialogue with China has become essential. If we are not simply to challenge but to co-exist with China, we need a better understanding of the country's complex contemporary reality — which in turn requires engagement with the longstanding historical and cultural roots from which today's reality has sprung. 
Complicating this project is the fact that over the past thirty years, much of what we thought we knew about China's past and present has changed dramatically. From ancient trade routes, to the role of classical learning, to the May Fourth Movement, to the notion of democracy in a Chinese context, many of the major phenomena in Chinese history and society have been significantly reconceptualized by scholars.
In Dialogue with China: Art, Culture, Politics brings together Chinese and Western panelists to engage in cutting-edge dialogue on the history and current state of Chinese art, culture, and politics. Offering innovative, thoughtful approaches to the study of China, the conversations aim to provide rich intellectual resources as the US and China chart an unknown but surely entangled future.
Participants:
Siep Stuurman is emeritus professor of the history of ideas at Utrecht University, the Netherlands. His panoramic book The Invention of Humanity (2017) traces evolving ideas of human equality and difference across continents, civilizations, and epochs to argue that the notion of a common humanity was counterintuitive and thus had to be invented. He is also the author of François Poulain de la Barre and the Invention of Modern Equality, which was awarded the George Mosse Prize by the American Historical Association.
Li Wai-yee is the 1879 Professor of Chinese Literature at Harvard University and an expert on the work of ancient historian Sima Qian, considered the father of Chinese historiography. Her books include The Readability of the Past in Early Chinese Historiography (2007); Women and National Trauma in Late Imperial Chinese Literature (2014), which won the Joseph Levenson Prize from the Association of Asian Studies; and, most recently, Plum Shadows and Plank Bridge: Two Memoirs About Courtesans (2020).
Luke Habberstad is associate professor of early Chinese literature and religion at the University of Oregon and author of Forming the Early Chinese Court: Rituals, Spaces, Roles (2018).
Cosponsored by the Social Science Matrix.
Film Series: Chinese Portraits
In conjunction with the Townsend Center's series In Dialogue with China: Art, Culture, Politics, the UC Berkeley Art Museum and Pacific Film Archive presents the film series Chinese Portraits, which offers a multifaceted view of China in various eras. Tickets and more information are available at the BAMPFA China Portraits link.