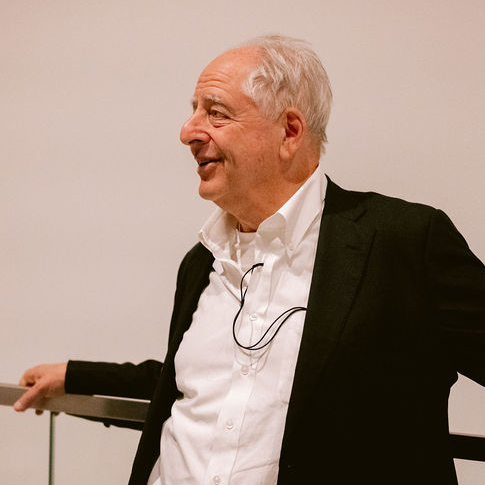 Ursonate
Performed by William Kentridge
Friday, Mar 10, 2023 8:00 pm
South African artist William Kentridge participates in a campus-wide residency taking place over the course of the 2022-23 academic year. Featuring one of the most respected artists of our time, the residency provides the UC Berkeley and wider Bay Area community with the rare opportunity to engage directly with Kentridge and his artistry via lectures, performances, and events showcasing the breadth and depth of his creative output.
Kentridge embodies the spirit of Dada in this multimedia performance piece based on the seminal 1932 sound poem "Ursonate," a poetic and musical work by artist Kurt Schwitters. Unlike a classical sonata, Ursonate requires only the human voice for instrumentation. Through his performance of this piece, Kentridge reveals his talents as an actor as well as a director, orienting the work not only to the listener but also to the viewer. He creates a dramatic reading of the work, with the assistance of projections and surprise guests.
Born in 1955 in Johannesburg, where he still resides, Kentridge has been revered in the international art world for more than 40 years. Much of his work addresses his homeland's legacies of colonialism and Apartheid while also celebrating the nation's vibrant cultures. He is known for combining drawing, writing, film, performance, music, theater, and collaborative practices to create works of art grounded in politics, science, literature, and history — all the while maintaining a space for contradiction and uncertainty. He has created original productions for such leading opera venues as the Metropolitan Opera, English National Opera, and Sydney Opera House. His theatrical productions and films incorporate many of the elements of his artistic practice to create an immersive environment and provide layers of meaning. 
Tickets are free to UC Berkeley faculty, staff, and students, and $10 for non-campus affiliates. More information is available on the Cal Performances website.
Cosponsored by Cal Performances and BAMPFA.