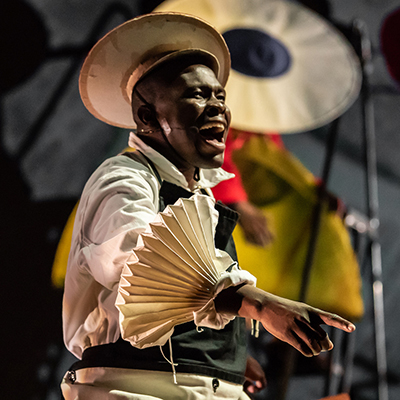 William Kentridge's SIBYL
South African artist William Kentridge participates in a campus-wide residency taking place over the course of the 2022-23 academic year. Featuring one of the most respected artists of our time, the residency provides the UC Berkeley and wider Bay Area community with the rare opportunity to engage directly with Kentridge and his artistry via lectures, performances, and events showcasing the breadth and depth of his creative output.
In the US premiere of his opera, Kentridge combines magic, music, movement, and mesmerizing imagery. Presented in two parts, SIBYL is inspired by the Greek myth of the Cumaean Sibyl, and wrestles with the human desire to know our future and our helplessness before powers and technologies that obscure that knowledge from us. 
The chamber opera Waiting for the Sibyl features nine vocalists and dancers interacting with Kentridge's distinctive stage design, which energizes the action of the performers with hand-painted sets, animated ink drawings, swirling projected text, collage, and shadow play. The music is composed by Nhlanhla Mahlangu and Kyle Shepherd, and layers South African vocal harmonies with rhythmic chants and piano accompaniment. 
The first part of the program, The Moment Has Gone, is a film by Kentridge with live music featuring a piano score by Shepherd and an all-male vocal chorus led by Mahlangu.
Kentridge has taken the opera world by storm in recent years with his strikingly original productions of works by Berg, Mozart, and Shostakovich, which have graced such illustrious stages as the Metropolitan Opera, the English National Opera, and the Sydney Opera House, among many others.
Born in 1955 in Johannesburg, where he still resides, Kentridge has been revered in the international art world for more than 40 years. Much of his work addresses his homeland's legacies of colonialism and Apartheid while also celebrating the nation's vibrant cultures. He is known for combining drawing, writing, film, performance, music, theater, and collaborative practices to create works of art grounded in politics, science, literature, and history — all the while maintaining a space for contradiction and uncertainty. His performance productions and films incorporate many of the elements of his artistic practice to create an immersive environment and provide layers of meaning. 
See the Cal Performances website for information on purchasing tickets.
Cosponsored by Cal Performances and BAMPFA.