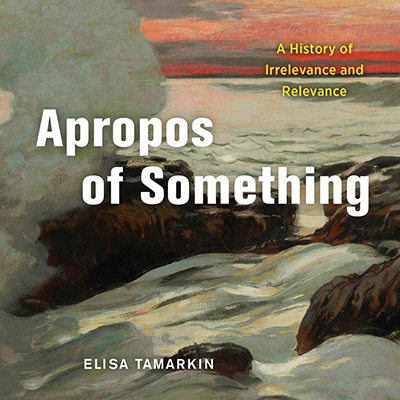 Apropos of Something: A History of Irrelevance and Relevance
Elisa Tamarkin
Berkeley Book Chats
Before 1800 nothing was irrelevant. So argues Elisa Tamarkin (English) in her study of a key shift in consciousness: the arrival of relevance as the means to grasp how something that was once disregarded, unvalued, or lost to us becomes interesting and important. 
Relevance, Tamarkin shows, was an Anglo-American concept embodying a struggle for recognition, especially in the worlds of literature, art, and criticism. Derived from a word meaning "to raise or to lift up again" and also "to give relief," the idea of relevance engaged the attention of major intellectual figures — including Ralph Waldo Emerson, William James, Alain Locke, John Dewey, and Alfred North Whitehead — as well as a range of critics, phenomenologists, linguists, and sociologists. A searching philosophical and poetic study, Apropos of Something (Chicago, 2022) explores relevance as a concept calling for shifts in both attention and perceptions of importance that carry important social stakes.
Tamarkin is joined by Samuel Otter (English). After a brief discussion, they respond to questions from the audience.