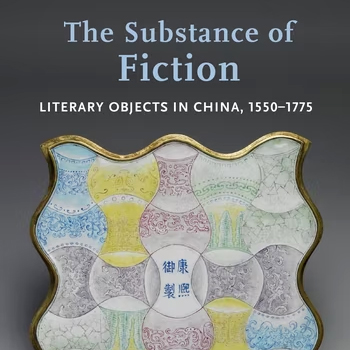 The Substance of Fiction: Literary Objects in China, 1550-1775
Sophie Volpp
Berkeley Book Chats
Do the portrayals of objects in literary texts represent historical evidence about the material culture of the past? Or are things in books more than things in the world? Sophie Volpp (Comparative Literature and East Asian Languages & Cultures) considers fictional objects of the late Ming and Qing that defy being read as illustrative of historical things. Instead, she argues, fictional objects are often signs of fictionality itself, calling attention to the nature of the relationship between literature and materiality.
Volpp examines a series of objects — a robe, a box and a shell, a telescope, a plate-glass mirror, and a painting — drawn from canonical works frequently mined for information about late imperial material culture. She argues that the historical resonances of literary objects illuminate the rhetorical strategies of individual works of fiction and, more broadly, conceptions of fictionality in the Ming and Qing. Rather than offering a transparent lens on the past, fictional objects train the reader to be aware of the fallibility of perception. The Substance of Fiction (Columbia, 2022) has important implications for Chinese literary studies, history, and art history, as well as the material turn in the humanities.
Volpp is joined by Dorothy J. Hale (English). After a brief discussion, they respond to questions from the audience.