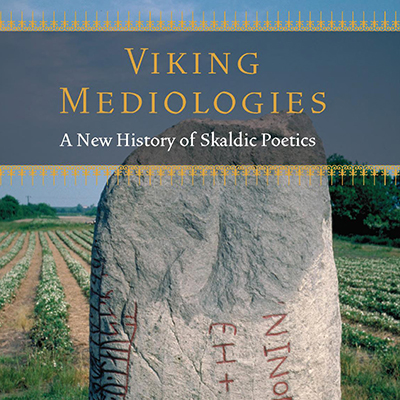 Viking Mediologies: A New History of Skaldic Poetics
Kate Heslop
Berkeley Book Chats
A video of this event will be posted within a few days in the Media section of the Townsend Center website.
In her study of Old Norse literature and culture, Kate Heslop (Scandinavian) approaches Viking Age poetry through an innovative interpretive framework that considers the texts as pieces within a broader media landscape. Focusing on the poetry's capacity to embody memory, visuality, and sound, Viking Mediologies (Fordham, 2022) is an examination of premodern multimedia rooted in the embodied poetic practice of Viking Age skalds (poets).
As writing arrived in Scandinavia in the wake of Christianization, the media landscape shifted. In the poetry of the 12th and 13th centuries, skalds adjusted to the demands of a literate audience, while opening a dialogue between Latin Christian and local traditions. Offering new readings of both canonical and lesser-known works, Heslop repositions the texts, opening them up to large and vital interdisciplinary questions about the poems' place in Viking and medieval Scandinavian culture.
Heslop is joined by Jonas Wellendorf (Scandinavian). After a brief discussion, they respond to questions from the audience.